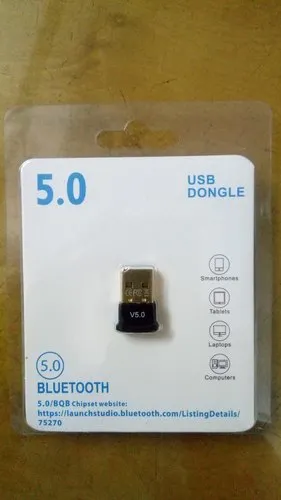 5.0 USB Dongle
Description
Stock Available
5 % VAT Applicable
Integrity Guaranteed
More info (?)In order to give our customers the best online shopping experience by helping them to make a sound decision, we color code all our products with the following for authenticity, quality and seller reliability.

Green: Best

Yellow: Unknown

Red: Poor
Mobile phone/tablet connected to the computer: no need to open the software, no network can also transfer photos and files
Free drive: plug and play, no driver installed, mobile phone/tablet can transfer text, and photos, install the full version of the driver, and the computer can be connected to the Bluetooth headset/speaker.
Support multi-device connection: to achieve computer connection with other Bluetooth-enabled devices
Connect the Bluetooth mouse/keyboard: get rid of the distance limit, responsive and unlimited.
Description of 5.0 USB Dongle
The 5.0 USB Dongle is a tiny Mini Bluetooth Adapter for easy connections. In a cool white color and weighing just 0.65g, it uses USB and covers a 0-30m range at 2.4GHz. It runs on DC 5V and lets you link your phone/tablet to your computer without opening software or installing drivers. No internet is needed for photo and file transfers. Connect to multiple Bluetooth devices, like headsets and speakers. Plug and play for text and photo transfers, or install the full driver for extra features.
What is the 5.0 USB Dongle in Bangladesh?
You can find the 5.0 USB Dongle at GProjukti.com, your go-to destination for accessories solutions. You can buy Bluetooth Adapter at the best price on our website or visit our GProjukti.com stores. The latest price of the USB Dongle in Bangladesh is ৳250.