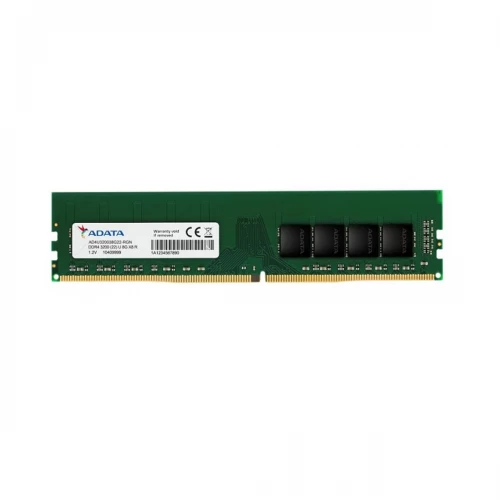 Adata 8GB DDR4 3200MHz Desktop RAM #AD4U32008G22-RGN
About this item
RAM Type - DDR4
RGB Fusion - No
Number of Pin - 288 Pin
Bus Speed(MHz) - 3200MHz
Capacity (GB/TB) - 8GB
Stock Available
0 % VAT Applicable
Integrity Guaranteed
More info (?)In order to give our customers the best online shopping experience by helping them to make a sound decision, we color code all our products with the following for authenticity, quality and seller reliability.

Green: Best

Yellow: Unknown

Red: Poor
---
---
---
---
---
---
---
---
Intel Core 8th/9th/10th series and AMD ZEN 2nd 3rd Ryzen series
---
---
---
Power supply: VDD and VDDQ=1.2V +0.06/-0.06V, DRAM activation power supply: VPP = 2.5V (+0.25V / -0.125V), DRAM VCC: DDR4 STD 1.2V
---
High speed up to 3200MHz, Transfer bandwidth up to 25.6GB/s, Energy efficient: saves 20% power compared to DDR3, 8-layer PCB provides improved signal transfer and system stability
---
---
---
Taiwan/China (or Country may vary by Shipment)
Description of Adata DDR4 3200MHz 8GB Desktop Ram
Adata's 8GB DDR4 RAM is perfect for multitasking and smooth app performance. It has a non-ECC error-checking system for data integrity and stability, so you can count on it.
Plus, it's compatible with Intel Core 8th/9th/10th series and AMD ZEN 2nd/3rd Ryzen series processors, making it versatile for various desktop setups. And it's energy-efficient, using 20% less power than DDR3 RAM. This RAM is built to last with its durable construction and 8-layer PCB. Plus, it has a stylish army-green design that adds a touch of elegance to your computer setup.
What is the Price of Adata DDR4 3200MHz 8GB Desktop Ram in Bangladesh?
This RAM comes with a product lifetime warranty, protecting your investment for years. Upgrade your system's memory and unleash its true potential with the Adata 8GB DDR4 3200MHz Desktop RAM, available exclusively at GProjukti.com. You can buy Adata Ram at the best price from our website or visit any of our GProjukti.com stores. The latest price of the Adata DDR4 3200MHz 8GB Desktop Ram in Bangladesh is ৳3,300.