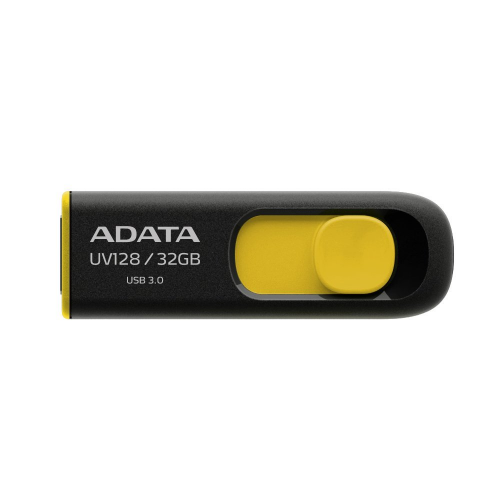 Adata UV128 32 GB USB 3.2 Pen Drive
About this item

Model: UV128
Capacity: 32 GB
Interface: USB 3.2 Gen1
Up to 100 MB/s read speed
Stock Available
0 % VAT Applicable
Integrity Guaranteed
More info (?)In order to give our customers the best online shopping experience by helping them to make a sound decision, we color code all our products with the following for authenticity, quality and seller reliability.

Green: Best

Yellow: Unknown

Red: Poor
| | |
| --- | --- |
| Capacity | 32 GB |
| Color | Black-Blue / Black-Yellow |
| Texture | Plastic |
| Dimensions ( L x W x H ) | 60 x 20 x 9mm |
| Weight | 10g |
| Interface | USB 3.2 Gen1 (backward compatible with USB 2.0) |
| Performance | Up to 100 MB/s read |
| System requirements | Windows XP, Vista, 7, 8, 8.1, 10, Mac OS X 10.6 or later, Linux kernel 2.6 or later, with no device driver needed |
| Warranty | Product Lifetime Warranty |
Description of Adata UV128 32 GB USB 3.2 Pen Drive
If you ever run out of space on your computer and need to transfer files quickly, consider the Adata UV128 32 GB USB 3.2 Pen Drive. It's a reliable and affordable storage option with a 32 GB capacity. With its USB 3.2 Gen1 interface, you can transfer files at speeds of up to 100 MB/s when reading files. It's great for work, school, or media files.
This pen drive is built tough to handle daily use, and its small size and light weight make it easy to carry with you wherever you go. Plus, it's simple to use - plug it in and transfer files. And don't forget, it comes with a lifetime warranty, so your investment is protected for years. Whether you're a student, a professional, or anyone who needs reliable and portable storage, the Adata UV128 Pen Drive is a great choice.
What is the Price of the Adata UV128 32 GB USB 3.2 Pen Drive in Bangladesh?
But before you hit that "buy" button, there's one important thing you need to keep in mind: the price of the Adata UV128 32 GB Pen Drive may vary based on availability. To ensure you're getting the best deal possible, shopping around and comparing prices from different sellers is a good idea. You can buy Adata Pen Drive at the best price from our website or visit any of our GProjukti.com stores. The best Adata 32 GB Pen Drive latest price in Bangladesh is ৳550.