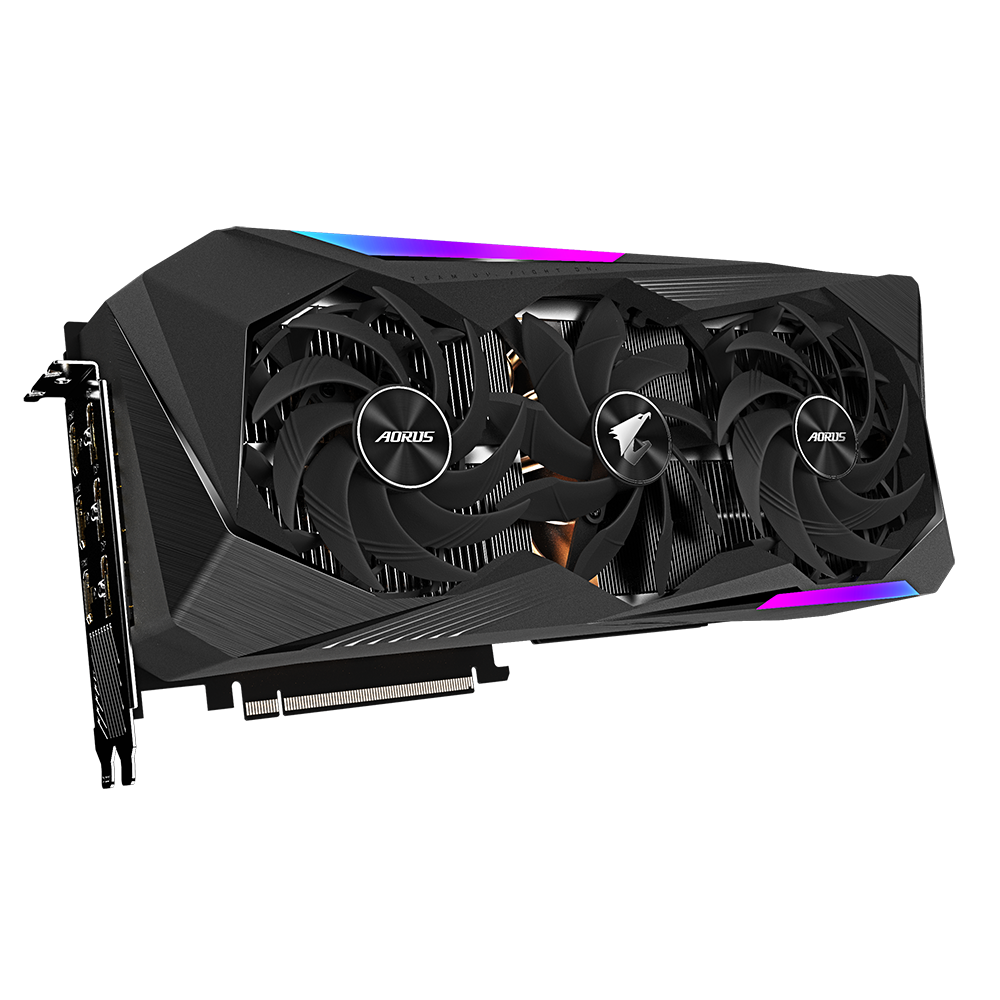 GIGABYTE AORUS GeForce RTX 3070 Ti MASTER 8G
Description
Stock Available
0 % VAT Applicable
Integrity Guaranteed
More info (?)In order to give our customers the best online shopping experience by helping them to make a sound decision, we color code all our products with the following for authenticity, quality and seller reliability.

Green: Best

Yellow: Unknown

Red: Poor
| | |
| --- | --- |
| | |
| | |
| | |
| 1875 MHz (Reference Card: 1770 MHz) | |
| | |
| | |
| | |
| | |
| | |
| | |
| | |
| | |
| | |
| | |
| Memory Bandwidth (GB/sec) | |
| | |
| | |
| | |
| | HDMI 2.1 *2 |
| | HDMI 2.0*1 (The middle HDMI output supports up to HDMI 2.0) |
| | |
| 2. Warranty registration | 3. Metal sticker |
Description of GIGABYTE AORUS GeForce RTX 3070 Ti MASTER 8G Graphics Card
The AORUS RTX 3070 Ti MASTER 8G processing delivers stunning graphics and smooth gameplay. The card has 8 GB of GDDR6X memory, ample room for handling complex textures and high-resolution visuals.
It boasts a core clock speed of 1875 MHz, higher than the standard reference card, ensuring excellent performance even during demanding tasks.
Measuring 6144 L x 142 W x 70 H mm, this graphics card comes in a compact ATX form, fitting nicely into most gaming rigs. It requires an 850W PSU for power supply and utilizes two 8-pin connectors along with one 6-pin connector.
This card is SLI compatible, enabling you to combine multiple GPUs for even greater performance gains. The package includes a quick guide, warranty registration, and a stylish metal sticker.
What is the Price of AORUS GeForce RTX 3070 Ti MASTER 8G in Bangladesh?
You can find the AORUS 3070 Ti at GProjukti.com, your go-to destination for computer components solutions. You can buy GIGABYTE Graphics Card at the best price from our website or visit our GProjukti.com stores. The latest price of the AORUS RTX 3070 Ti Graphics Card in Bangladesh is ৳119,995.