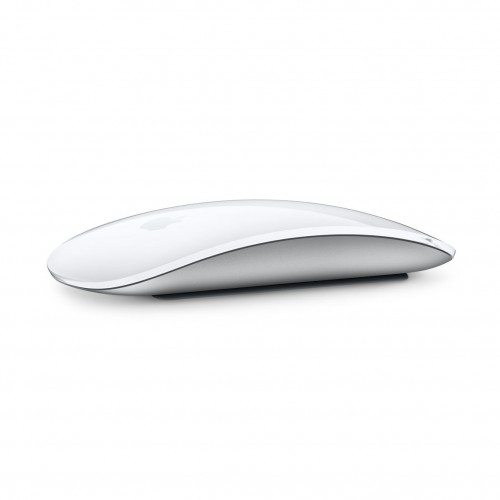 Apple Magic Mouse
About this item
MPN: MK2E3AM/A
Model: Magic Mouse
Wireless and rechargeable
Multi-Touch surface
Incredibly durable internal battery
USB-C to Lightning Cable included
Stock Available
0 % VAT Applicable
Integrity Guaranteed
More info (?)In order to give our customers the best online shopping experience by helping them to make a sound decision, we color code all our products with the following for authenticity, quality and seller reliability.

Green: Best

Yellow: Unknown

Red: Poor
Main Features
Connection Type
Bluetooth
Lightning port
Wireless
Cable Length
USB-C to Lightning Cable
Others
System Requirements:
Bluetooth-enabled Mac with OS X 10.11 or later
iPad with iPadOS 13.4 or later
Physical Specifications
Color
Silver
Dimension(LxWxH)
Height: 0.85 inch (2.16 cm)
Width: 2.25 inches (5.71 cm)
Depth: 4.47 inches (11.35 cm)
Weight
0.22 pound (0.099 kg)
Warranty Information
Warranty
No warranty
Description of Apple Magic Mouse
The Apple Magic Mouse is an innovative peripheral that transforms your Mac and iPad interaction. Boost productivity and improve the user experience with this wireless wonder, available at GProjukti.com for the best price. The Magic Mouse offers a seamless Bluetooth connection, connecting to Bluetooth-enabled Mac (OS X 10.11+) or iPad (iPadOS 13.4+) with ease.
You can easily charge it with the lightning port using the included USB-C to Lightning cable, ensuring it's always ready for action. This silver mouse is stylish, portable (0.85"H x 2.25" W x 4.47"D), and lightweight at just 0.22 pounds, so it won't burden you.
Core Features of the Apple Magic Mouse:
Bluetooth connectivity for seamless connection to compatible devices

Lightning port and USB-C to Lightning cable for convenient charging

Wireless design for freedom of movement

Compact and portable dimensions

Sleek silver color for a stylish look

Compatible with Bluetooth-enabled Mac with OS X 10.11 or later and iPad with iPadOS 13.4 or later.
What is the Price of the Apple Magic Mouse in Bangladesh?
At GProjukti.com, you can purchase the Apple Magic Mouse and enjoy the convenience and precision it brings to your daily tasks. Whether navigating documents, scrolling through webpages, or enjoying creative projects, this mouse offers exceptional responsiveness and sensitivity. You can buy Apple Mouse at the best price from our website or visit any of our GProjukti.com stores. The latest price of the Apple Magic Mouse in Bangladesh is ৳10,295.