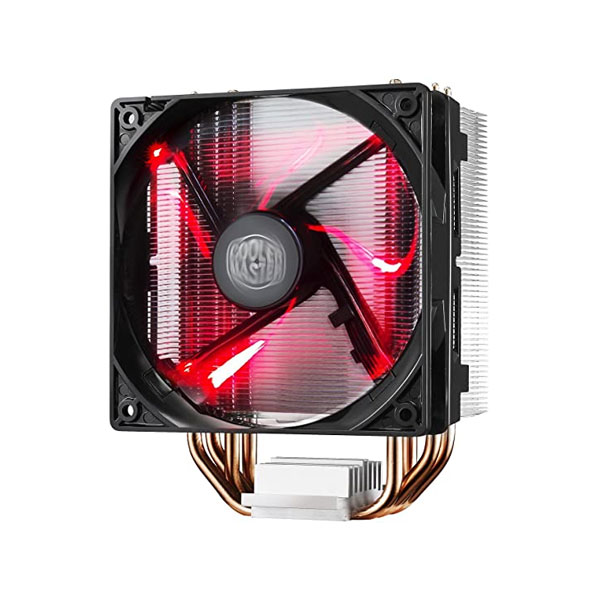 Cooler Master RR-212L-16PR-R1 Hyper 212 LED CPU Cooler
About this item
LED Color - Red
Cooler Type - Air CPU Cooler
Weight (Kg) - 0.634 Kg
Fan Size: 120mm
Fan Speed: 600-1,600 RPM ± 10%
Stock Available
0 % VAT Applicable
Integrity Guaranteed
More info (?)In order to give our customers the best online shopping experience by helping them to make a sound decision, we color code all our products with the following for authenticity, quality and seller reliability.

Green: Best

Yellow: Unknown

Red: Poor
Dimensions
120(L) x 84(W) x 160(H) mm
Heat Sink
HEAT SINK DIMENSIONS (L X W X H): 116(L) x 60(W) x 160(H) mm
HEAT SINK MATERIAL: Aluminum (Fins) Copper (Heatpipes)
HEAT SINK WEIGHT: 468g
HEAT PIPE DIMENSIONS: Ø6mm
Fan
FAN DIMENSIONS (L X W X H): 120(L) x 120(W) x 25(H) mm
FAN SPEED: 600-1,600 RPM ± 10%
FAN AIRFLOW: 66.3 CFM ± 10%
FAN AIR PRESSURE: 1.7 mmH2O ± 10%
FAN MTTF: 280,000 hrs
Fan Power Consumption: 2.28 W
FAN NOISE LEVEL: 9-31 dBA
Fan Weight: 166g
FAN BEARING TYPE: Rifle Bearing
Fan Connector: 4-Pin (PWM)
FAN RATED VOLTAGE: 12V DC
FAN SAFETY CURRENT: 0.19A
Compatibility
Intel® LGA 2066 / 2011-3 / 2011 / 1366 / 1156 / 1155 / 1151 / 1150 / 775
AMD AM4* / AM3+ / AM3 / AM2+ / AM2 / FM2+ / FM2 / FM1
Warranty
1 Year
Description of Cooler Master Hyper 212 Red CPU Cooler
The Cooler Master Hyper 212 LED CPU Cooler's powerful cooling solution is perfect for gamers and high-performance computing. With dimensions of 120(L) x 84(W) x 160(H) mm, it strikes a balance between size and performance. Crafted from aluminum fins and copper heat pipes, the heat sink ensures optimal heat dissipation. Weighing 468g, it's lightweight yet sturdy. Equipped with Ø6mm heat pipes, it efficiently transfers heat away from your CPU, preventing overheating. 
It operates quietly with a noise level of 9 to 31 dBA. The Hyper 212 LED has a 4-pin PWM fan connector for precise speed control. It is compatible with Intel and AMD sockets and offers excellent compatibility for various setups. With a 1-year warranty, you can rest assured that Cooler Master stands behind the quality and reliability of their product. So why wait?  
What is the Price of the Cooler Master Hyper 212 Red CPU Cooler in Bangladesh?
At GProjukti.com, you can buy the Cooler Master RR-212L-16PR-R1 Hyper 212 LED CPU Cooler and take your PC cooling to the next level. You can buy CPU Cooler at the best price from our website or visit any of our GProjukti.com stores. The latest price of the Cooler Master Hyper 212 Red CPU Cooler in Bangladesh is ৳2,795.