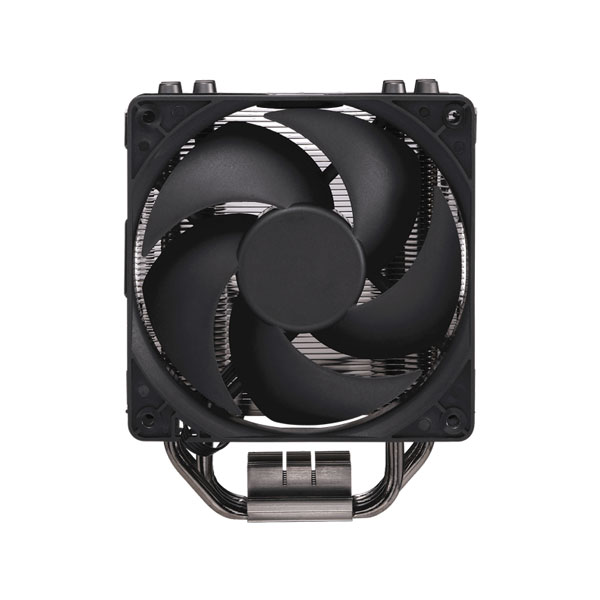 Cooler Master Hyper 212 Black Edition CPU Cooler
About this item
Product Model: RR-212S-20PK-R1
Fan Quantity: 1 PC
Fan Speed: 650-2000 RPM (PWM) ± 10%
Fan Airflow: 42 CFM (Max)
Fan Air Pressure: 2.9 mmH2O
Fan MTTF: 160,000 Hours
Fan Noise Level: 6.5 - 26 dBA
Stock Available
0 % VAT Applicable
Integrity Guaranteed
More info (?)In order to give our customers the best online shopping experience by helping them to make a sound decision, we color code all our products with the following for authenticity, quality and seller reliability.

Green: Best

Yellow: Unknown

Red: Poor
Dimensions
120 x 79.6 x 158.8 mm / 4.7 x 3.1 x 6.3 inch
Heat Sink
HEAT SINK DIMENSIONS (L X W X H): 120 x 60 x 160 mm / 4.7 x 2.4 x 6.3 inch
HEAT SINK MATERIAL: 4 Heat Pipes, Aluminum Fins, Direct Contact
HEAT SINK WEIGHT: 850g / 1.87lb
HEAT PIPE DIMENSIONS: Ø6mm
Fan
FAN DIMENSIONS (L X W X H): 120 x 120 x 25 mm / 4.7 x 4.7 x 1 inch
FAN SPEED: 650-2000 RPM (PWM) ± 10%
FAN AIRFLOW: 42 CFM (Max)
FAN AIR PRESSURE: 2.9 mmH2O
FAN MTTF: 160,000 hrs
Fan Power Consumption: 0.96 W
FAN NOISE LEVEL: 6.5 – 26 dBA
Fan Connector: 4-Pin (PWM)
FAN RATED VOLTAGE: 12V DC
FAN SAFETY CURRENT: 0.16A
Compatibility
LGA2066, LGA2011-v3, LGA2011, LGA1151, LGA1150, LGA1155, LGA1156, LGA1366, AM4, AM3+, AM3, AM2+, AM2, FM2+, FM2, FM1
Warranty
1 Year
Description of Cooler Master Hyper 212 Black Edition CPU Cooler
The Cooler Master Hyper 212 Black Edition CPU Cooler calls you to experience efficient cooling for gaming and computing. Its fan operates at a speed range of 650-2000 RPM, providing 42 CFM airflow to keep your processor cool, eliminating overheating for uninterrupted gaming. This CPU cooler features 4 heat pipes and aluminum fins for rapid cooling and quiet operation, running at just 6.5 decibels when idle and remaining silent at 26 decibels during gameplay. 
With a fan MTTF of 160,000 hours, it guarantees years of reliable performance. Weighing 850g and compatible with various socket types, including LGA2066, LGA2011-v3, LGA2011, LGA1151, LGA1150, LGA1155, LGA1156, LGA1366, AM4, AM3+, AM3, AM2+, AM2, FM2+, and FM1, this CPU cooler has your system covered. Cooler Master backs it with a 1-year warranty for your peace of mind.
What is the Price of the Cooler Master Hyper 212 Black Edition CPU Cooler in Bangladesh?
Before you hit that "buy" button, there's one important thing you need to keep in mind: the price of the Cooler Master Hyper 212 CPU Cooler may vary based on availability. To ensure you're getting the best deal possible, shopping around and comparing prices from different sellers is a good idea. You can buy CPU Cooler at the best price from our website or visit any of our GProjukti.com stores. The latest price of Cooler Master Hyper 212 CPU Cooler in Bangladesh is ৳3,995.