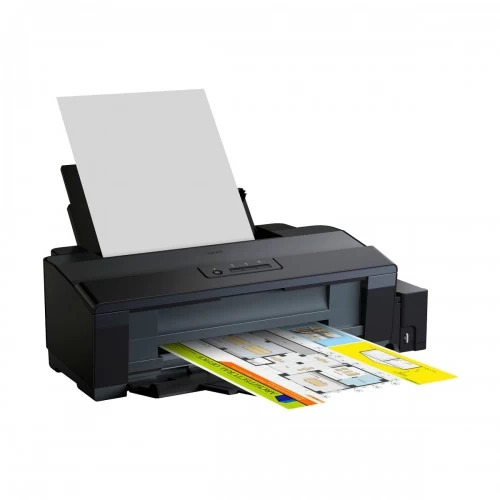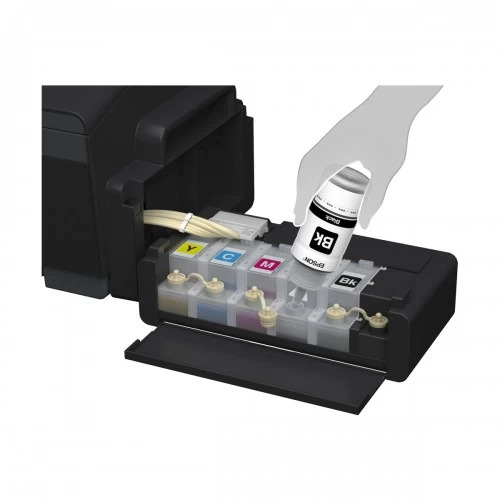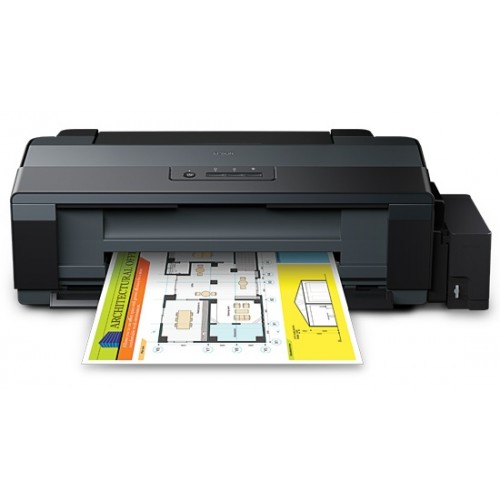 Epson EcoTank L1300 Single Function Ink Tank A3 Printer | C11CD81501
About this item
Functions - Print Only
Output Color - Color
Paper Size Max. - A3+
Print Speed (Black) - 30ppm
Print Speed (Color) - 17ppm
Interface (Built-in) - USB
Stock Available
0 % VAT Applicable
Integrity Guaranteed
More info (?)In order to give our customers the best online shopping experience by helping them to make a sound decision, we color code all our products with the following for authenticity, quality and seller reliability.

Green: Best

Yellow: Unknown

Red: Poor
PRODUCT NAME
EPSON L1300 INKTANK COLOUR PRINTER
PRODUCT CODE
C11CD81501
PROPERTIES
 
Paper Size
A3, A3+, A4, A5, A6, B4, B5, C6, DL, Legal Size, US Letter
Input Tray Type
100 sheets
TECHNOLOGY
 
Nozzle Configuration
360 nozzles Black, 59 nozzles each colour (Cyan, Magenta, Yellow)
Printing Method
On-demand Inkjet
Function
Print
Minimum Ink Droplet Volume
3pl
PRINT
 
Print Speed (B/W)
30ppm
Print Speed (Color)
17ppm
Print Resolution
5760 x 1440 dpi
Duplex Printing
Manual
Page Yield
Black and White - 7,100 Pages
Colour- 5,500 pages
Cost Per Page

Black - 7 Paise
Color (Composite)- 18 Paise

Ink Color
Black, Cyan, Magenta, Yellow
PAPER HANDLING
 
Output Tray Capacity
50 sheets
Input Tray Capacity
100 sheets
Media Size
A3, A3+, A4, A5, A6, B4, B5, C6, DL, Legal Size
SCAN
 
Maximum Scan Area
216 x 297mm
DIMENSIONS & WEIGHT
 
Dimensions
705‎ x 322 x 215 mm
Weight (Kgs)
12.2
CONNECTIVITY
 
Connectivity
USB 2.0 Hi-Speed
PRINTER SOFTWARE
 
Operating System Compatibility
Windows XP/XP Professional x64 Edition/Vista/7/8/8.1 Mac OS X 10.6.8, 10.7.x, 10.8.x, 10.9.x
POWER
 
Power Consumption

Power Consumption (Standby) - 6.9 W
Power Consumption (Active) - 20 W

Power Required
AC 100 V - 240 V,50 Hz - 60 Hz
Description of Epson EcoTank L1300 Single Function Ink Tank A3 Printer
The Epson EcoTank L1300 is a top-notch ink tank printer designed for large-scale printing. It's an A3 printer that will change the way you print. It has great features and delivers impressive prints on different paper sizes, from A3 to A4. You can print anything from posters to professional documents. The L1300 uses advanced on-demand inkjet technology with multiple nozzles for each color, ensuring detailed and colorful prints.
It prints quickly at 30 pages per minute for black and white and 17 pages per minute for color. You can print on both sides thanks to the manual duplex printing feature, which reduces paper waste. With the L1300, you get affordable printing with black prints costing only 7 paise and color prints at 18 paise per page. You can connect it easily with the USB 2.0 Hi-Speed interface. It's also energy-efficient, consuming as low as 6.9 W in standby mode and 20 W during active printing.
What is the Price of the Epson EcoTank L1300 Single Function Ink Tank A3 Printer in Bangladesh?
Before you hit that "buy" button, there's one important thing you need to keep in mind: the price of the Epson EcoTank L1300 Ink Tank A3 Printer may vary based on availability. To ensure you're getting the best deal possible, shopping around and comparing prices from different sellers is a good idea. You can buy Epson Printer at the best price from our website or visit any of our GProjukti.com stores. The latest price of Epson EcoTank L1300 Ink Tank A3 Printer in Bangladesh is ৳52,995.