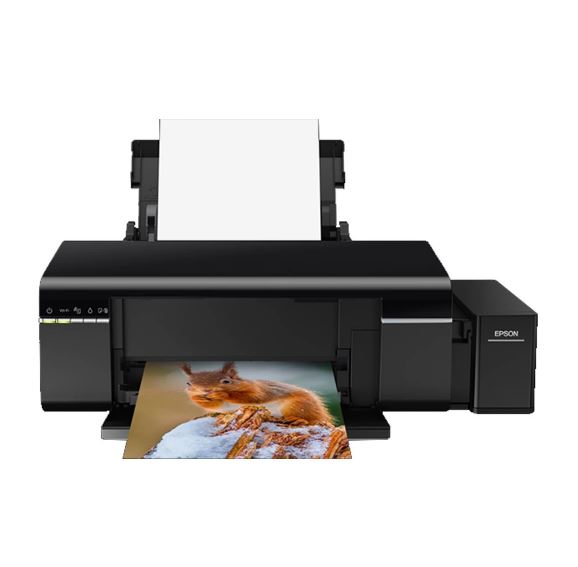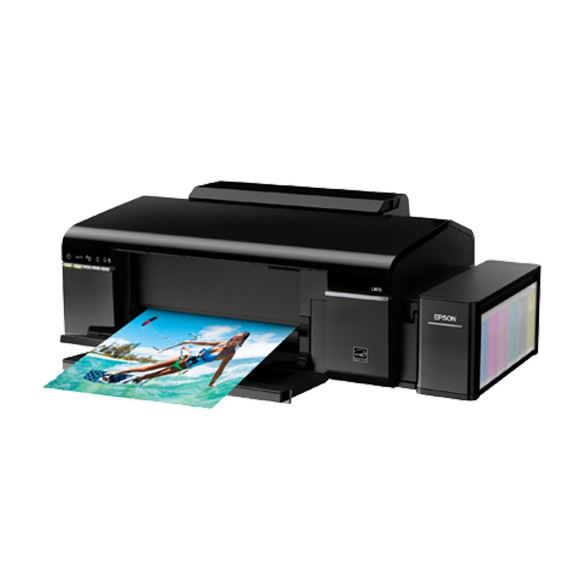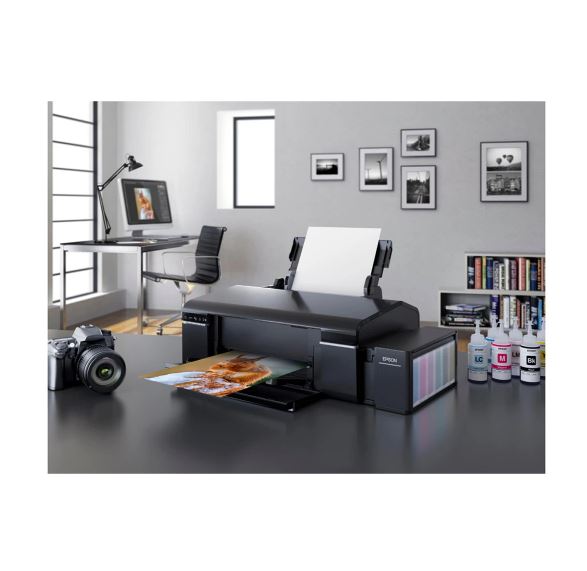 Epson L805 Six Color Photo INK Printer #C11CE86501
About this item
Functions - Print Only
Output Color - Color
Print Speed (Black) - 37ppm
Print Speed (Color) - 38ppm
Interface (Built-in) - USB, WiFi
Stock Available
0 % VAT Applicable
Integrity Guaranteed
More info (?)In order to give our customers the best online shopping experience by helping them to make a sound decision, we color code all our products with the following for authenticity, quality and seller reliability.

Green: Best

Yellow: Unknown

Red: Poor
---
---
---
Single Function Color INK Printer
---
---
---
---
---
A4, A5, A6, B5, 10 x 15cm (4 x 6 Inch), 13 x 18cm (5 x 7 Inch), 16:9 wide size, Letter, Legal (8.5 x 14.0 Inch), Half Letter (5.5 x 8.5 Inch), 9 x 13cm (3.5 x 5 Inch), 13 x 20cm (5 x 8 Inch), 20 x 25cm (8 x 10 Inch), 100 x 148mm, Envelopes: #10 (4.125 x 9.5 Inch), DL (110 x 220mm), C6 (114 x 162mm)
---
---
Premium Glossy Photo Paper, Plain Paper
---
---
---
---
---
Yes, Epson Connect (iPrint, Email Print)
---
Dye Based, Ink bottle: Black T6731 (3,000 pages), Cyan T6732, Magenta T6733, Yellow T6734, Light Cyan T6735, Light Magenta T6736 (5,400 pages), (1,800 photos)
---
---
Supported Operating System
Windows 7, 8, 8.1, 10, Vista, XP, Mac OS X 10.6.8 or later
---
---
1 year/3,000 pages Which One Comes First
---
---
---
---
Paper Feed Method: Friction feed, Media Handling: Auto Sheet Feeder, Borderless print, CD / DVD, It can print even on surfaces such as CD/DVDs. (To print card it needs a separate tray which should be bought separately)
---
---
---
China/ Indonesia/ Philippine (or Country may vary by Shipment)
Description of Epson L805 Six Color Photo INK Printer
The Epson L805, a versatile six-color photo ink printer, delivers high-quality prints. It employs advanced inkjet technology with a 5760 x 1440 dpi resolution, ensuring precise detail capture. It boasts a fast print speed of 37ppm for black and 38ppm for color, making it suitable for both monochrome documents and vivid color photos. It supports various paper sizes from A6 to A4 and offers customization for larger prints. Integrated Wi-Fi and USB connectivity allow wireless printing from mobile devices and computers.
With Epson Connect, you can conveniently print directly from your smartphone or tablet using the iPrint and Email Print features. The printer houses six ink tanks for accurate color reproduction and long-lasting prints. The ink bottles provide impressive page yields, with black ink printing up to 3,000 pages and color inks handling about 5,400 pages or 1,800 photos.
What is the Price of Epson L805 Six Color Photo INK Printer in Bangladesh?
At GProjukti.com, you can find the Epson L805 at the best price possible. We offer a wide range of Epson printers and accessories, and our professional team is ready to assist you with any questions. You can buy Epson Printer at the best price from our website or visit our GProjukti.com stores. The latest price of the Epson L805 Six Color Photo INK Printer in Bangladesh is ৳37,695.