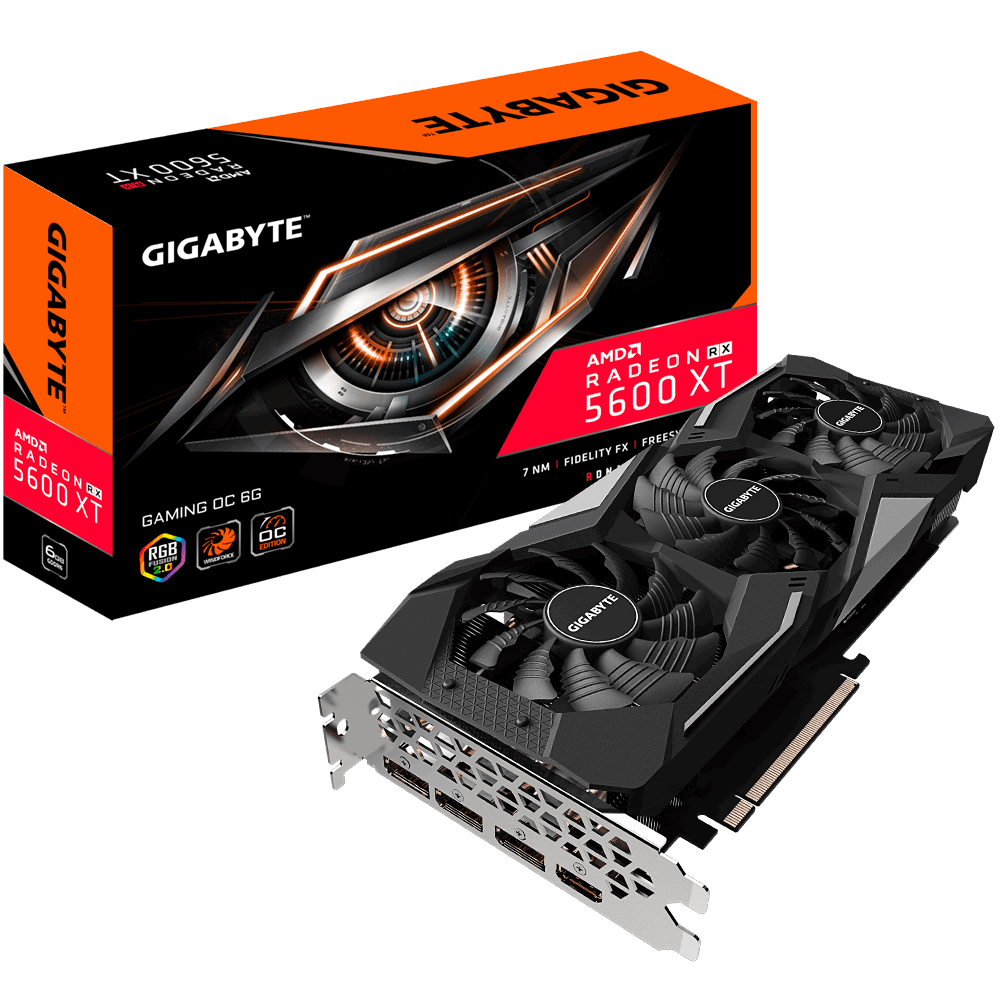 GIGABYTE GEFORCE GV Radeon RX 5600 XT GAMING OC 6G Graphics Card
About this item
Model: Gigabyte Radeon RX 5600 XT
PCI Express 4.0 x16
6GB 192-Bit GDDR6
WINDFORCE 3X Cooling System
3 x Display Port 1.4, 1 x HDMI 2.0b
Boost Clock : up to 1620 MHz
Game Clock* : 1560 MHz
Stock Available
5 % VAT Applicable
Integrity Guaranteed
More info (?)In order to give our customers the best online shopping experience by helping them to make a sound decision, we color code all our products with the following for authenticity, quality and seller reliability.

Green: Best

Yellow: Unknown

Red: Poor
Video Memory Specifications
Type
GDDR6
Size
6GB
Resolution
7680 x 4320 @ 60 Hz
Core Clock
Boost Clock : up to 1620 MHz
Game Clock : 1560 MHz
Memory Clock
12000 MHz
BUS Type
192 bit
Memory Interface
PCI-E 4.0 x 16
Stream Processors
2304
Others
Process Technology: 7 nm
Interface
Display Port
3 x DisplayPort 1.4
HDMI
1 x HDMI 2.0b
Power Specifications
Connectors
1 x 8-pin
Recommended PSU
450W
Display Option
Multi Display
up to 4 Display
Application Programming Interfaces
DirectX
12
OpenGL
4.6
Physical Specifications
Dimensions
L=279.85 W=114.35 H=49.55 mm
Warranty
Manufacturing Warranty
02 Years Warranty
GIGABYTE GEFORCE GV Radeon RX 5600 XT GAMING OC 6G Graphics Card in Bangladesh
The GIGABYTE GEFORCE GV Radeon RX 5600 XT GAMING OC 6G graphics card transforms gaming with stunning visuals, unmatched performance, and rapid speeds. It features GDDR6 memory with 6GB capacity for smooth gameplay and clear video. 
Achieving a core clock of 1620 MHz with Boost Clock technology and maintaining 1560 MHz with Game Clock ensures seamless gaming. A memory clock of 12000 MHz provides incredible speed. With 2304 stream processors, it delivers exceptional graphics rendering for realistic gaming experiences.
It offers strong performance with a recommended PSU of just 450W, minimizing power consumption concerns. You can count on it with a solid 2-year warranty. Call us for more information.
What is the Price of the GEFORCE RX 5600 XT GAMING Graphics Card in Bangladesh?
Before you hit that "buy" button, there's one important thing you need to keep in mind: the price of the GEFORCE RX 5600 XT GAMING OC 6G Graphics Card may vary based on availability. To ensure you're getting the best deal possible, shopping around and comparing prices from different sellers is a good idea. You can buy GIGABYTE Graphics Card at the best price from our website or visit any of our GProjukti.com stores. The latest price of the GEFORCE RX 5600 XT Graphics Card in Bangladesh is ৳32,995.