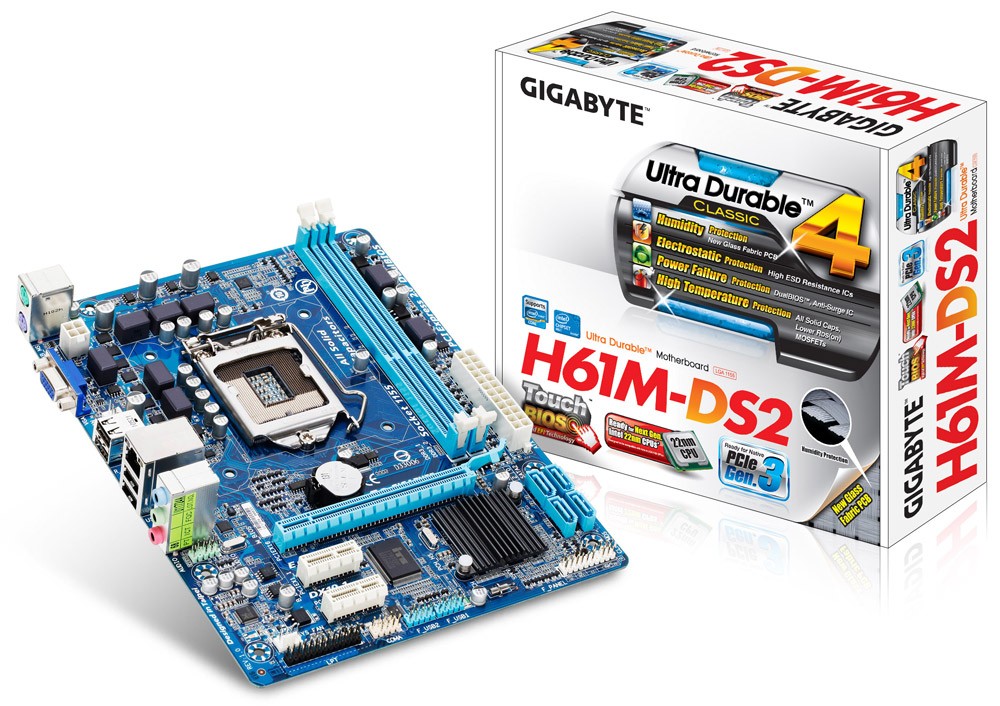 Gigabyte H61M-DS2 Motherboard
About this item
Model: GA-H61M-DS2
Intel® H61 Express Chipset
Supported CPU - Intel Core i7 / i5/ i3/ Pentium/ Celeron processors
Generation - 3rd
Memory Slot - 2
Memory Max. - 16GB
Stock Available
0 % VAT Applicable
Integrity Guaranteed
More info (?)In order to give our customers the best online shopping experience by helping them to make a sound decision, we color code all our products with the following for authenticity, quality and seller reliability.

Green: Best

Yellow: Unknown

Red: Poor
---
---
---
---
Intel Core i7 / i5/ i3/ Pentium/ Celeron processors
---
---
---
---
---
---
---
---
---
---
---
PnP 1.0a, DMI 2.0, SM BIOS 2.6, ACPI 2.0a
---
Supported Operating System
Windows 8 / 7 / Vista / XP
---
---
Description of
Gigabyte H61M-DS2 Motherboard
The Gigabyte GA-H61M-DS2 Motherboard is designed for advanced computing needs. It supports 3rd generation Intel processors and offers fast speeds for multitasking. With dual DDR3 memory slots, you can maximize your system's potential with up to 16GB of RAM. 
The GA-H61M-DS2 ensures smooth performance for gaming, video editing, and resource-intensive tasks. It has integrated graphics for crisp visuals and Realtek ALC887 audio for quality sound. The compact micro-ATX form factor offers expansion options with one PCI Express x16 slot. It also provides SATA and USB ports for easy data connection and transfer. Rest assured, and the Gigabyte GA-H61M-DS2 is built to last, backed by a 3-year warranty. 
What is the Price of
Gigabyte H61M-DS2 Motherboard
in Bangladesh?
Upgrade to the Gigabyte GA-H61M-DS2 from GProjukti.com today to maximize your computing experience. You can buy Gigabyte Motherboard at the best price from our website or visit our GProjukti.com stores. The latest price of the Gigabyte H61M-DS2 Motherboard in Bangladesh is ৳7,495.