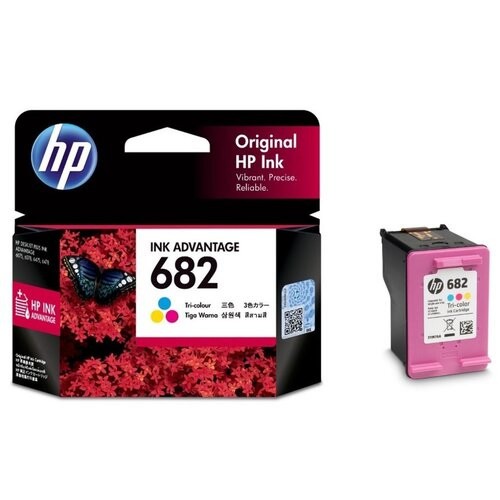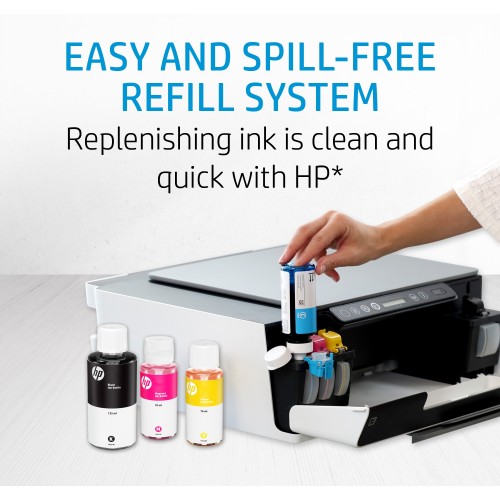 HP 682 Tri-Color Original Ink Advantage Cartridge
About this item
MPN: 3YM76AA
Model: 682
Duty Cycle up to (Yield): 150 Pages
Printing Technology: Inkjet
Printing Color: Tri-Color
Ink drop: 6.3 pl, 2.8 pl
Stock Available
0 % VAT Applicable
Integrity Guaranteed
More info (?)In order to give our customers the best online shopping experience by helping them to make a sound decision, we color code all our products with the following for authenticity, quality and seller reliability.

Green: Best

Yellow: Unknown

Red: Poor
| | |
| --- | --- |
| Printing Technology | Inkjet |
| Duty Cycle (Yield) | Up to 150 pages |
| Ink Drop | 6.3 pl, 2.8 pl |
| Print Head Nozzles | 588 |
| Ink Types | Dye-based |
| Compatible Printers | HP DeskJet Plus Ink Advantage 6000 series |
|   | DeskJet Ink Advantage 2336 |
|   | HP DeskJet Plus Ink Advantage 6400 series |
|   | HP Deskjet Ink Advantage 1200 Printer |
|   | HP Deskjet Ink Advantage 2300 All-in-One |
|   | HP DeskJet Ink Advantage 2700 All-in-One Printer |
|   | HP 2775 |
|   | HP DeskJet Ink Advantage 4100 All-in-One Printer |
|   | HP 4175 |
| Warranty | No warranty |
Description of HP 682 Tri-Color Original Ink Advantage Cartridge
The HP 682 Tri-Color Ink Advantage Cartridge brings vibrant colors to your documents and photos. It uses Inkjet Printing Technology to accurately reproduce your ideas on paper. With a Duty Cycle of up to 150 pages, it lasts longer, reducing the need for frequent replacements. The small Ink Drop size of 6.3 pl and 2.8 pl ensures precise and detailed prints. Its 588 Print Head Nozzles create sharp lines and smooth gradients.
The HP 682 works with various HP printers, like DeskJet models, making it easy to set up. It doesn't come with a warranty, but it delivers outstanding performance and reliability.
What is the Price of the HP 682 Tri-Color Original Ink Advantage Cartridge in Bangladesh?
Before you hit that "buy" button, there's one important thing you need to keep in mind: the price of the HP 682 Tri-Color Original Ink Advantage Cartridge may vary based on availability. To ensure you're getting the best deal possible, shopping around and comparing prices from different sellers is a good idea. You can buy HP Cartridge at the best price from our website or visit any of our GProjukti.com stores. The latest price of the HP 682 Original Ink Cartridge in Bangladesh is ৳1,145.