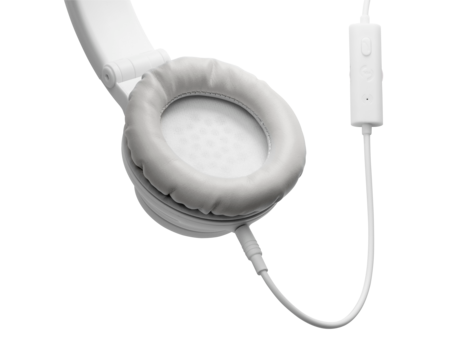 HP H3100 White Wired Headphone
About this item
Crisp, clear audio
Enjoy great audio quality for your favorite entertainment.1

Switch from music to meeting
Easily jump into an online call with the built-in microphone.1

Cushioned comfort. Serious sound.
Wonderfully soft cushions completely cover your ear for great comfort and sound quality.1

Adjustable comfort
Find the perfect fit with the completely adjustable, padded headband.

Conveniently detachable
Detach the 3.5mm audio cable for easy storage and connection point protection.

Quick, compact storage
Easily take it anywhere with a foldable design for compact storage.

Universal connectivity
Instantly connects with laptops, tablets, and smartphones with a 3.5mm audio jack.
Integrity Guaranteed
More info (?)In order to give our customers the best online shopping experience by helping them to make a sound decision, we color code all our products with the following for authenticity, quality and seller reliability.

Green: Best

Yellow: Unknown

Red: Poor