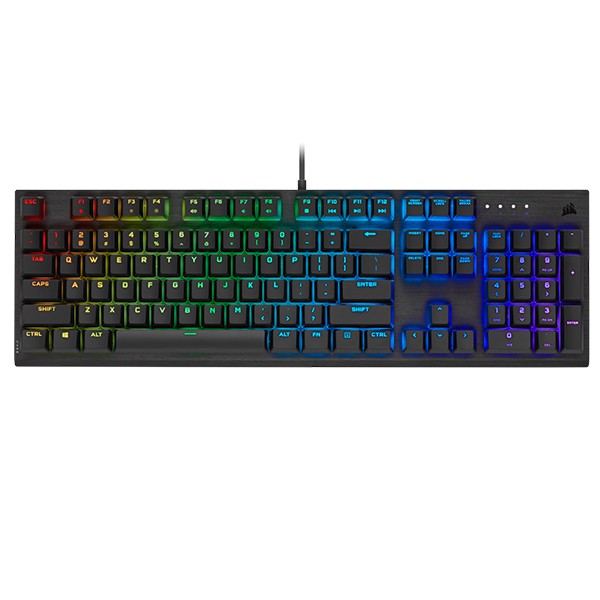 K60 RGB PRO Mechanical Gaming Keyboard — CHERRY VIOLA — Black
Description
Stock Available
0 % VAT Applicable
Integrity Guaranteed
More info (?)In order to give our customers the best online shopping experience by helping them to make a sound decision, we color code all our products with the following for authenticity, quality and seller reliability.

Green: Best

Yellow: Unknown

Red: Poor
The CORSAIR K60 RGB PRO SE Mechanical Gaming Keyboard is built for both style and substance with a durable brushed aluminum frame, PBT double-shot keycaps, and CHERRY VIOLA mechanical keyswitches. Light up your desktop with vivid per-key RGB backlighting while you play comfortably for hours thanks to a magnetic detachable memory foam cushioned palm rest. CORSAIR iCUE software enables custom macros, key remaps, and fully customized lighting. Unlock a more immersive gaming experience when playing iCUE-integrated games as your RGB lighting dynamically reacts to in-game events. With full N-key rollover and 100% anti-ghosting to ensure your keypresses always register, along with Windows Key Lock mode to ensure your game is never interrupted, the K60 RGB PRO SE lets you be the key player.
Key Features:
Anodized Aluminum Frame
Made from brushed aluminum with black anodization for a stylish, modern look and years of battle-tested durability.
100% CHERRY VIOLA Mechanical Keyswitches
Linear travel with fast and precise inputs.
PBT Double-Shot Keycaps
Precision-molded keycaps with a standard bottom row layout resist wear, fading, and shine, with 1.5mm thickness for rigid stability.
Dynamic Per-Key RGB Backlighting
Illuminate your desktop with near-limitless colors and effects, enhanced by keyswitches that create an ultra-bright underglow.
Magnetic Detachable Leatherette Palm Rest
Easily slides into place, with a soft-textured surface and memory foam cushioning for the plush comfort to breeze through hours of gaming.
Powerful CORSAIR iCUE Software
Enables dynamic RGB lighting control, key remaps and custom macro programming, and full-system lighting synchronization across all iCUE-compatible CORSAIR devices.
iCUE Game Integrations
Experience an unparalleled level of immersion when playing iCUE-integrated games, as your RGB lighting dynamically reacts to in-game actions and events in real-time.
Full N-Key Rollover (NKRO) with 100% Anti-Ghosting
Ensures that every keypress registers, no matter how fast you play.
Windows Key Lock Mode
Guarantees you'll never accidentally interrupt your game at critical moments.
Convenient Keyboard Shortcuts
Control media playback, volume, and onboard lighting on-the-fly.