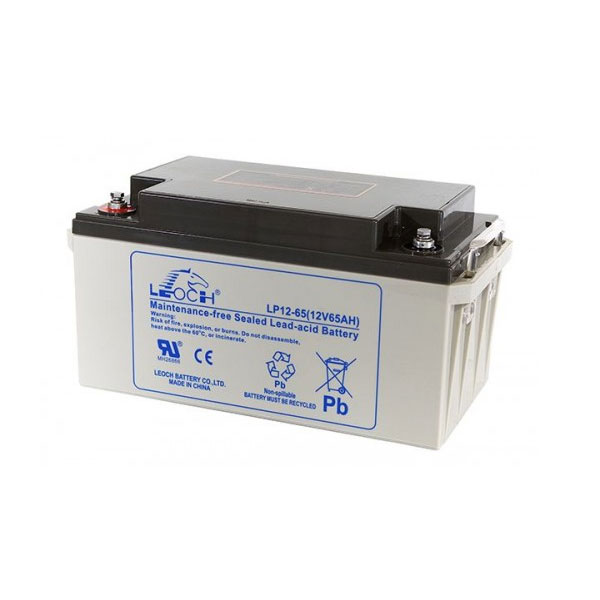 Leoch 65AH UPS 12V Battery
About this item

Brand: Leoch
Capacity: 65AH
Nominal Voltage: 12V
Internal Resistance: Approx. 7.3mΩ
IEC 60896 Certified
Stock Available
0 % VAT Applicable
Integrity Guaranteed
More info (?)In order to give our customers the best online shopping experience by helping them to make a sound decision, we color code all our products with the following for authenticity, quality and seller reliability.

Green: Best

Yellow: Unknown

Red: Poor
Nominal Voltage
12V
Nominal Capacity (20HR)
65AH
Dimensions
Length: 348 ± 3mm
Width: 167 ± 3mm
Container Height: 178 ± 3mm
Total Height (with Terminal): 214 ± 3mm
Terminal
T6
Container Material
ABS
Max. Discharge Current
780A (5s)
Internal Resistance
Approx. 7.3mΩ
Operating Temp. Range
Discharge: -15~50°C (5~122°F)
Charge: 0~40°C (32~104°F)
Storage: -15~40°C (5~104°F)
Nominal Operating Temp. Range
25±3°C (77 ± 5°F)
Applications
Uninterruptable Power Supply (UPS)
Electric Power System (EPS)
Aircraft Signal
Electronic apparatus and equipment
Emergency backup power supply
DC power supply
Standards
IEC 60896 Certified
Classified as "Standard commercial" according to Eurobat
UL Certified
Approved as non-hazardous cargo for ground, sea, and air transportation in accordance with ICAO, IATA, and IMDG
Manufactured in Leoch® Ts16949, ISO 9001, ISO 14001, and OHSAS 18001 certified production facilities.
Description of Leoch 65AH UPS 12V Battery
The Leoch 65AH UPS 12V Battery is a dependable power solution for various uses. It delivers great performance and useful features, ensuring smooth operation even during power cuts. It has a 12V voltage and 65AH capacity for long-lasting power. It's easy to install due to its small size and is made of tough ABS material. The T6 terminal guarantees secure connections and efficient power transfer.
This battery works well under tough conditions with a max discharge current of 780A (5s) and low internal resistance. It functions in a wide temperature range and can be stored optimally. It's suitable for UPS, EPS, aircraft signals, electronic devices, backup power, and DC power supply applications.
What is the Price of Leoch 65AH UPS 12V Battery in Bangladesh?
Get your Leoch 65AH UPS 12V Battery today from GProjukti.com, your trusted online destination for high-quality power solutions. Power up your life with GProjukti.com and enjoy the uninterrupted performance at unbeatable value. You can buy UPS batteries at the best price from our website or visit our GProjukti.com stores. The latest price of the Leoch 65AH UPS 12V Battery in Bangladesh is ৳14,795.