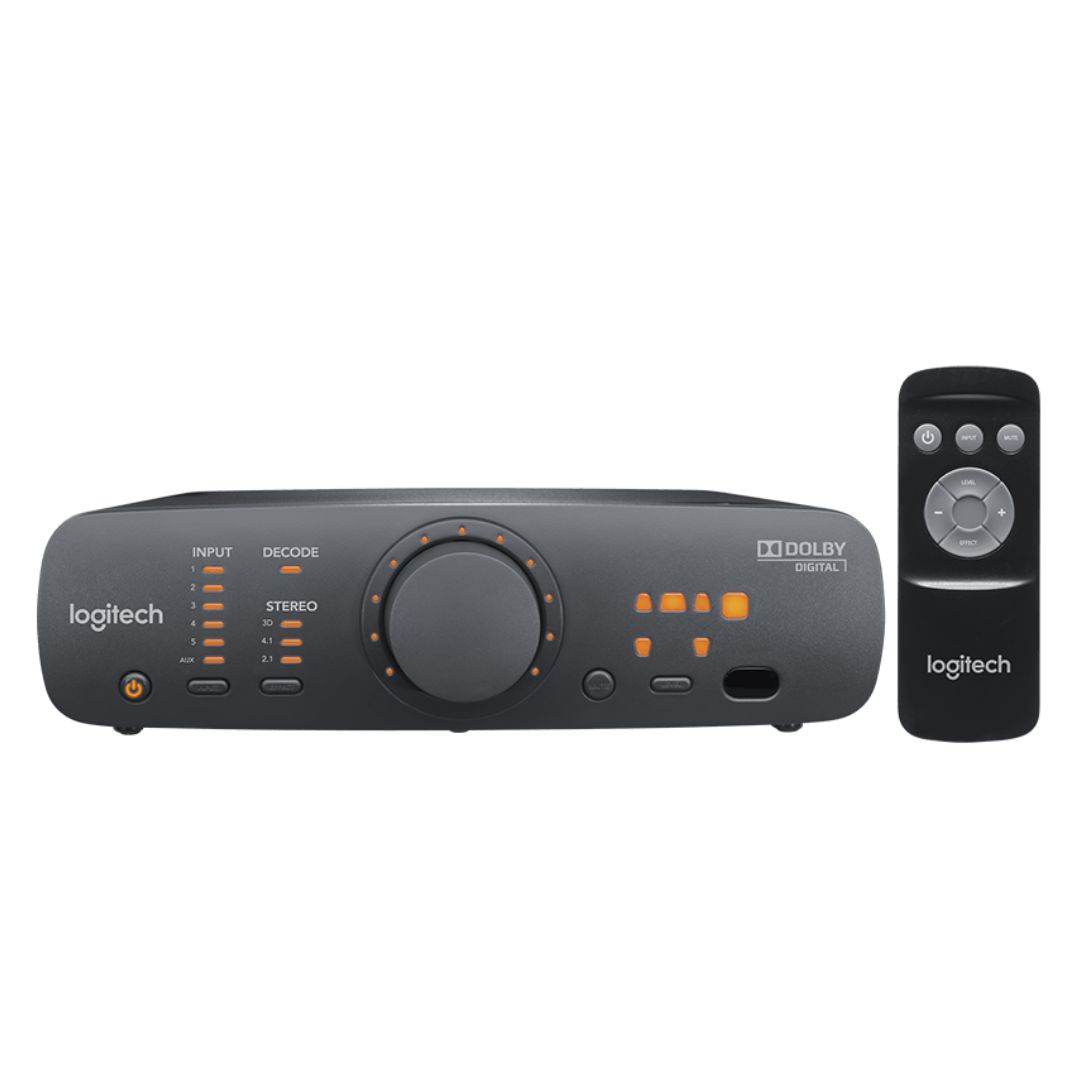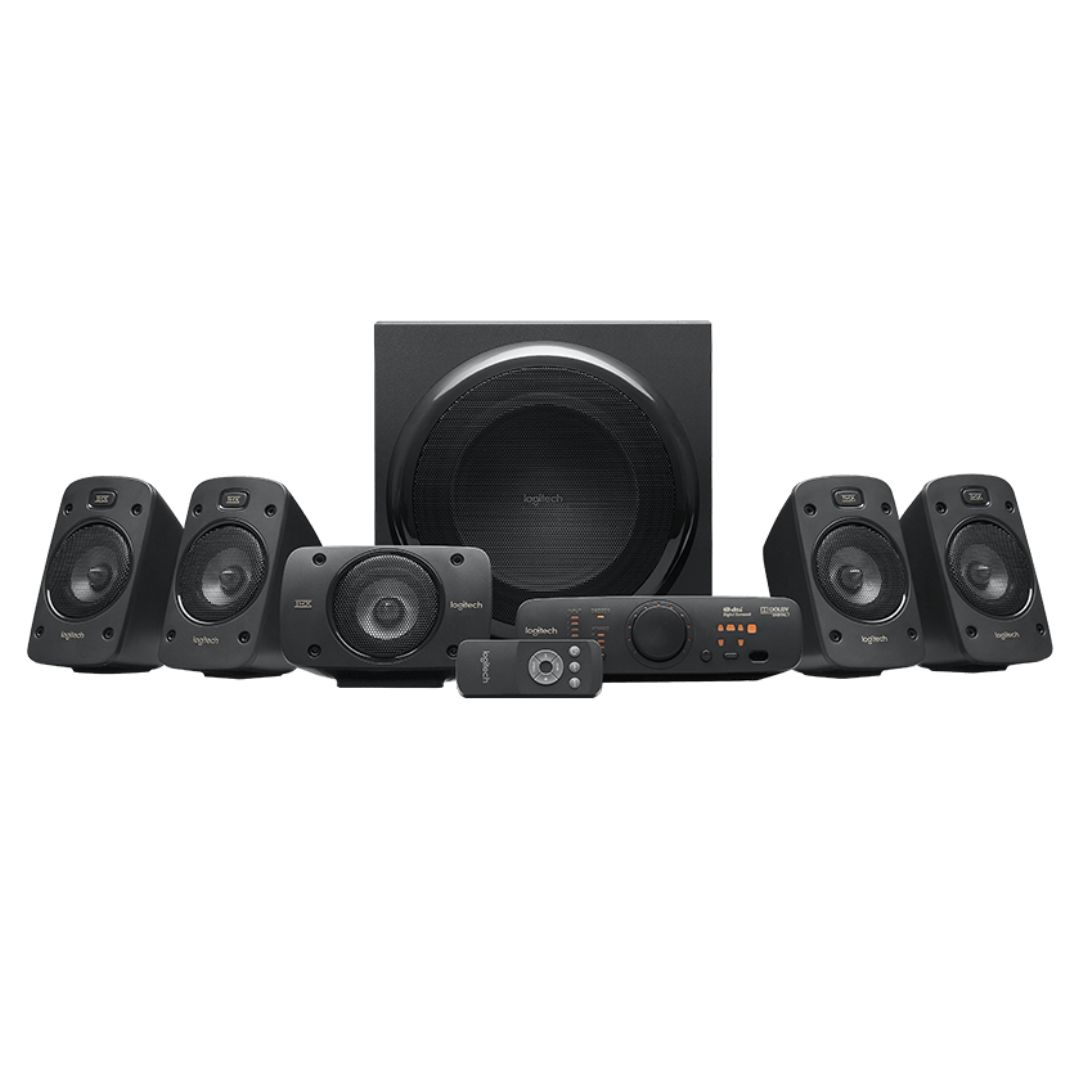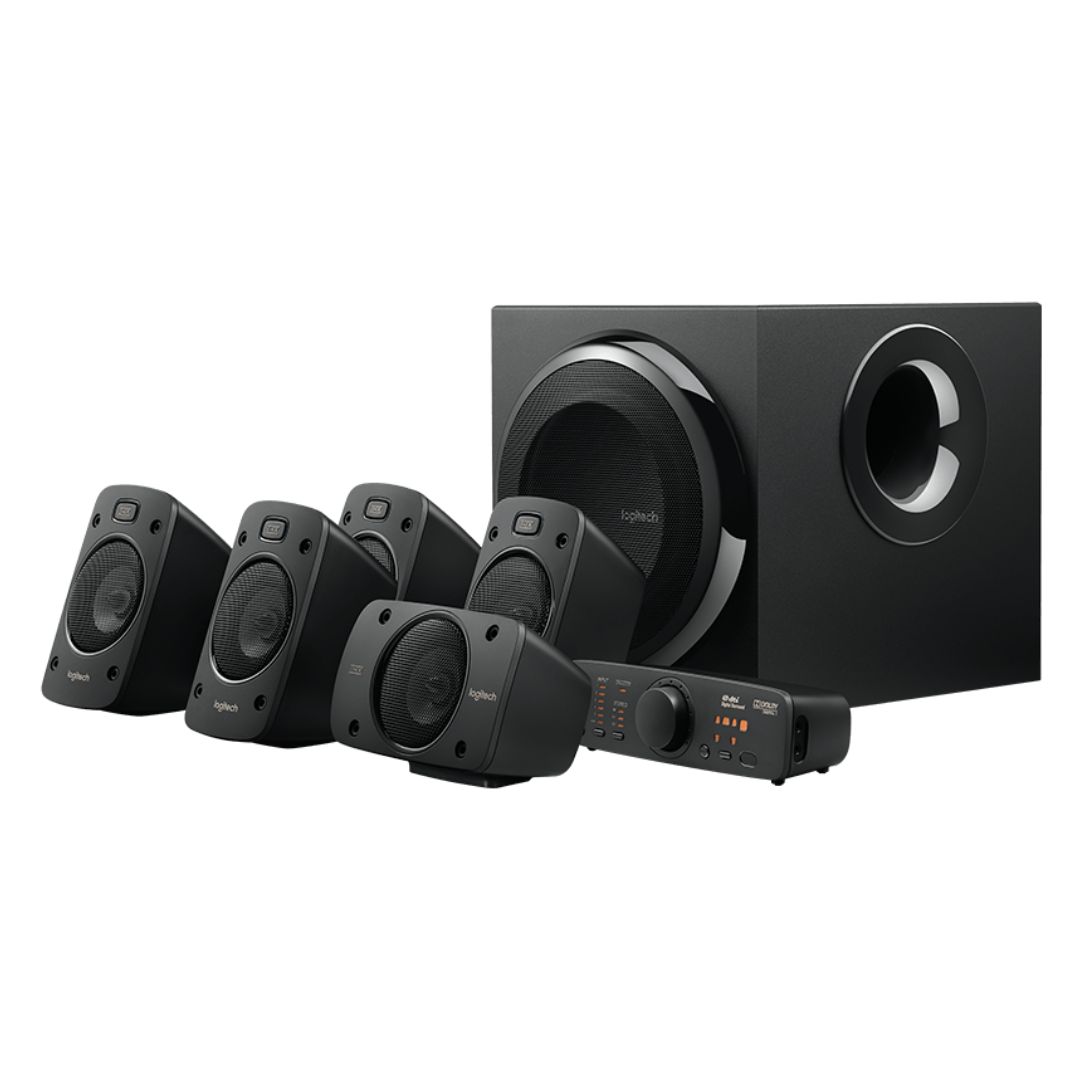 Logitech Z906 5.1 Speaker (980-000468)
Description
Integrity Guaranteed
More info (?)In order to give our customers the best online shopping experience by helping them to make a sound decision, we color code all our products with the following for authenticity, quality and seller reliability.

Green: Best

Yellow: Unknown

Red: Poor
| Component | Dimensions (H x W x D) | Weight | Technical Specifications |
| --- | --- | --- | --- |
| Subwoofer | 11.5 in (293 mm) x 11.1 in (281 mm) x 12.6 in (319 mm) | 19.8 lbs (9 Kg) | Total watts (RMS): 500 W |
|   |   |   | Subwoofer: 165 W |
| Satellites | 6.5 in (166.3 mm) x 3.9 in (100.3 mm) x 3.7 in (93.5 mm) | 2.0 lbs (890 g) | Satellites: 4 x 67 W, wall mountable |
| Center Channel | 3.9 in (100.3 mm) x 6.5 in (166.3 mm) x 3.7 in (93.5 mm) | 2.0 lbs (.89 Kg) | Center channel speaker: 1 x 67 W, wall mountable |
| Control Console | 11.5 in (293 mm) x 11.1 in (281 mm) | 1.0 lb (.50 Kg) | Digital optical input: 2 |
| Wireless Remote | 4.4 in (111 mm) x 1.7 in (43 mm) x 0.7 in (18.9 mm) | (w/ Battery) 0.1 lb (67 g) | Digital coaxial input: 1 |
Six-channel direct input: 1
3.5mm input: 1
RCA input: 1
The package contents include:
Four satellite speakers
One center channel
Subwoofer
Six-channel direct cable
Control Console
Wireless remote
3 AAA batteries
User documentation
Warranty Information: 2-Year Limited Hardware Warranty
Description of Logitech Z906 5.1 Speaker
The Logitech Z906 is a 5.1 speaker system with 1000 watts of sound. It includes a subwoofer, four satellites, and a centre channel speaker, delivering clear and dynamic sound.
The subwoofer is 11.5 inches tall, 11.1 inches wide, and 12.6 inches deep, weighing 19.8 pounds. It packs 165 watts of power, delivering deep and rich bass.
The system has a wireless remote, 4.4 inches long, 1.7 inches wide, and 0.7 inches thick, weighing only 0.1 pounds with the battery. The Logitech Z906 offers excellent wired connectivity, impressive power, and a handy remote control, making it an excellent choice for entertainment.
What is the Price of Logitech Z906 5.1 Speaker in Bangladesh?
You can find the Logitech Z906 at GProjukti.com, your go-to destination for home theatre solutions. You can buy Logitech Speaker at the best price from our website or visit our GProjukti.com stores. The latest price of the Logitech Z906 5.1 Speaker in Bangladesh is ৳33,995.