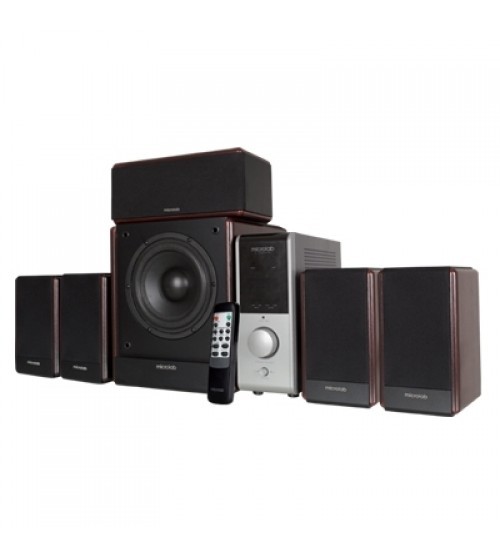 Microlab FC 730 5.1 Surround Subwoofer Speaker
About this item
Model: Microlab FC 730
Frequency response 30-20 000, Hz
Signal/Noise ratio 70, dB
Separation 40, dB
Output power 84, Watt RMS
Stock Available
0 % VAT Applicable
Integrity Guaranteed
More info (?)In order to give our customers the best online shopping experience by helping them to make a sound decision, we color code all our products with the following for authenticity, quality and seller reliability.

Green: Best

Yellow: Unknown

Red: Poor
Microlab premier range, the FC series, is based on the FINE CONE designed by Acoustic expert Peter Larsen.
This design follows strict discipline in speaker designs to achieve a perfect linear frequency response curve. Ideal home theatre system in all-natural wood finish.
Uncolored audio, precise position, and high resolution with Microlab's own eAirbass technology.
- Powerful 5.1 surround subwoofer system with full range acoustic production and cabinet satellites
- Airbases design, Microlab's own proprietary technology - Bass with natural depth and range
- 6.5" woofer system for deep vocal and bass effects. All magnetically shielded
- Designed by Denmark acoustic expert Peter Larsen V12 FineCone technology with perfect linear response
- Individual amplifier unit with full front controls and includes a wireless remote control
 
Technical Specifications
Amplifier specs
Output power 84, Watt RMS
Power distribution 12x5+24, Watt
Harmonic distortion 0,3, % (1Watt, 1kHz)
Frequency response 30-20000 Hz
Signal/Noise ratio 70, dB
Separation 40, dB
Speakers specs
Tweeter driver type 2,5,
Tweeter-rated power 12 Watt
Bass driver type 6,5-eAirbass,
Bass-rated power 24-watt
Material MDF
Color dark wood
Remote control    1
Interfaces
Output 6RCA sockets
Input 6RCA sockets
Dimensions
Satellites 135 x 112 x 195, mm
Subwoofer 259 x 241 x 280, mm
Amplifier 305 x 89 x 250, mm
Product Net weight 15,50 kg
Microlab FC 730 5.1 Surround Subwoofer Speaker
in Bangladesh
The Microlab FC 730 5.1 Surround Subwoofer Speaker is a masterpiece of audio engineering. Crafted by acclaimed acoustic expert Peter Larsen, the FC series features the revolutionary FINE CONE design for impeccable audio quality. Its elegant all-natural wood finish seamlessly blends with any decor, while Microlab's eAirbass technology ensures exceptional bass reproduction. With a powerful 5.1 surround subwoofer system, the FC 730 fills the room with captivating sound. 
The 6.5" magnetically shielded woofer system produces deep vocal and bass effects. Conveniently control your audio with the front-mounted amplifier unit and included wireless remote. The FC 730 boasts impressive technical specifications, including an 84W RMS output power, low distortion, wide frequency response, and crystal-clear sound reproduction. Made with high-quality MDF material and stunning dark wood color.
Experience an immersive sound and transform your home theater into a cinematic oasis with the Microlab FC 730 from GProjukti.com. You can buy a Gamepad at the best price from our website or visit our GProjukti.com stores. The latest price of the Microlab FC 730 5.1 Speaker in Bangladesh is ৳2,045.