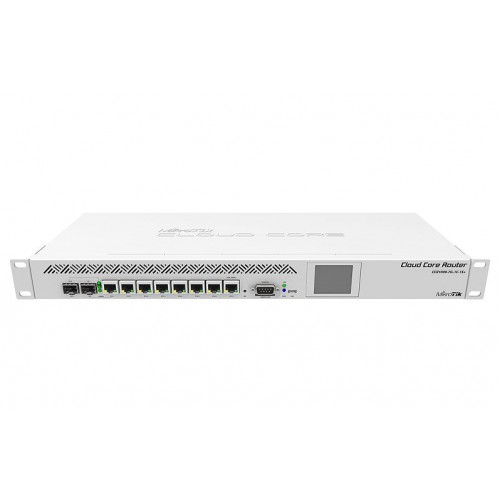 Mikrotik CCR1009-7G-1C-1S+ 7 Port Gigabit Ethernet Router
Description
Integrity Guaranteed
More info (?)In order to give our customers the best online shopping experience by helping them to make a sound decision, we color code all our products with the following for authenticity, quality and seller reliability.

Green: Best

Yellow: Unknown

Red: Poor
Additional information
Interface
10/100/1000 Ethernet ports-7 II
Number of USB ports 1
Power Jack 3 II
PoE in Yes II
Wireless Standards
10/100/1000 Ethernet
Frequency
1.2 GHz
Description of Mikrotik CCR1009-7G-1C-1S+ 7 Port Gigabit Ethernet Router
The Mikrotik CCR1009-7G-1C-1S+ Ethernet router is a high-performance and dependable networking device with 7 Gigabit Ethernet ports, 1 USB port, three power jacks, and PoE support. Its 1.2 GHz CPU enables it to handle high network traffic smoothly, making it an excellent option for small and large organizations. 
Moreover, this router supports various Ethernet standards, including 10/100/1000 Ethernet, making it suitable for high-speed networking applications. If you are looking for a versatile and trustworthy networking solution, the Mikrotik CCR1009-7G-1C-1S+ is perfect.
What is the Price of Mikrotik CCR1009-7G-1C-1S+ 7 Port Router in Bangladesh?
Mikrotik CCR1009-7G-1C-1S+ 7 Port Router latest price in Bangladesh is ৳42,995. You can buy Mikrotik router online to get a brand warranty, or visit your nearest GProjukti.com store. Mikrotik 1009 Router in Bangladesh may vary in price based on customizations and availability. Before buying, verify with other shops for the current price.