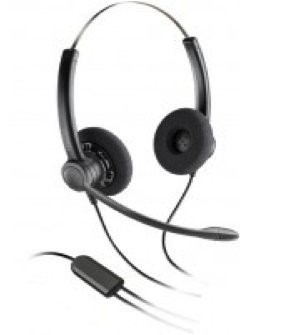 Plantronics PRACTICA SP12QD-USB20 USB Audio Processor
Description
Stock Available
0 % VAT Applicable
Integrity Guaranteed
More info (?)In order to give our customers the best online shopping experience by helping them to make a sound decision, we color code all our products with the following for authenticity, quality and seller reliability.

Green: Best

Yellow: Unknown

Red: Poor
Short Description:
The headsets of choice for the most cost-sensitive contact centers. Featuring a functional design, the Practica SP12 headset delivers call clarity with noise-cancelation technology. Adjustable components ensure comfort as well as ease of setup and maintenance.
Description:
PRACTICA SP12 KEY FEATURES

• Wearing styles: Monaural and binaural
wearing styles.
• Lightweight comfort: Adjustable over-the-head
design to meet most fi t and comfort needs.
• Noise reduction: Noise-canceling microphone
reduces background noise.

CHOICE OF THREE VERSIONS

• Quick Disconnect version connects to:
Various bottom cables, enabling connectivity
to PSTN, USB for PC, and audio processors
for desk phones.
• Modular version connects to: Telephone.
• PC Soundcard version connects to: PC without need for USB.
Warranty: 01 Years