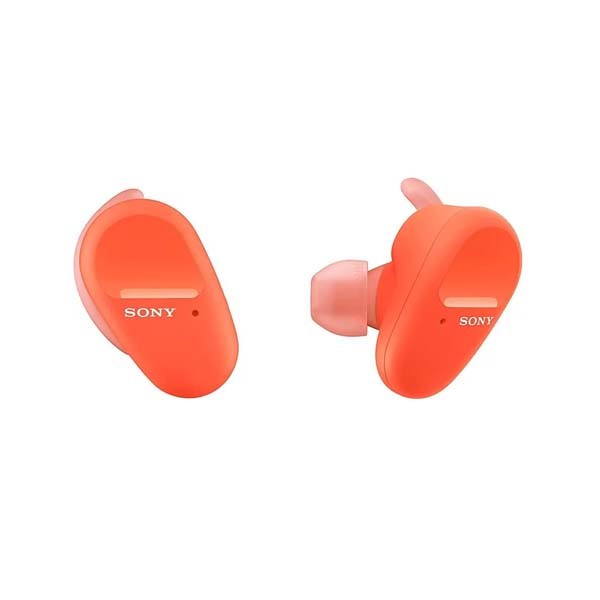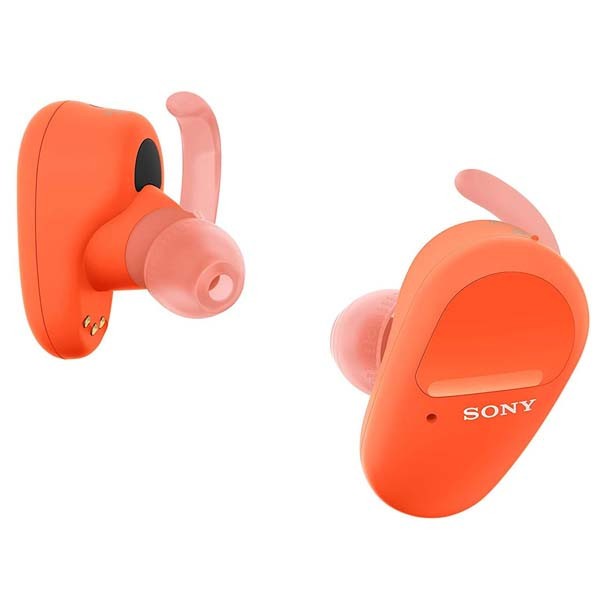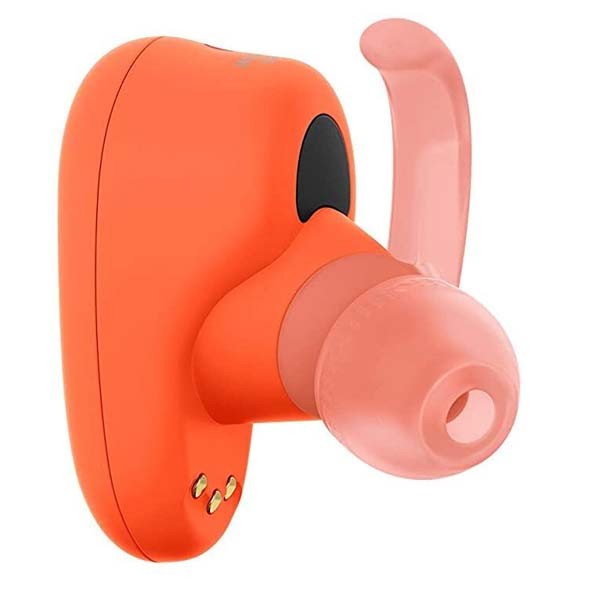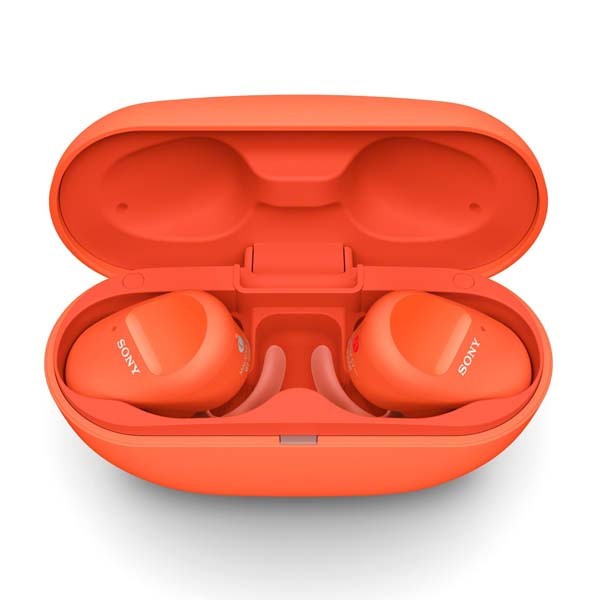 Sony WF-SP800N Wireless Noise Cancelling Headphones for Sports - Orange
Description
Stock Available
0 % VAT Applicable
Integrity Guaranteed
More info (?)In order to give our customers the best online shopping experience by helping them to make a sound decision, we color code all our products with the following for authenticity, quality and seller reliability.

Green: Best

Yellow: Unknown

Red: Poor
Headphones as tough as your workout
The WF-SP800N truly wireless sports headphones combine long battery life, resistance to water and sweat, and deep bass sound with digital noise cancelling. So when the going gets tough, they won't let you down.
Portable, protected and with all the power you need
The compact charging case not only protects your WF-SP800N, it also lets you power up on the go. Holding a single further full charge, the case lets you enjoy up to 18 hours of music playback with noise cancelling switched on and up to 26 hours without1. Quick charging is also available.
Long battery life – 9hrs (earbuds) + 9hrs (charging case) and quick charging
At full charge, the headphones offer 9 hours of power, while the handy charging case provides an extra 9 hours. That's up to 18 hours of noise-free listening. With noise-cancelling switched off, it's even longer – 13 hours of power on a full charge, with an extra 13 hours provided by the charging case, for up to 26 hours of play time.1 And if you're in a hurry, 10 minutes' quick charging gives you up to 60 minutes of music playback with noise cancelling.
Designed for an active lifestyle
With an IP552 rating, splashes, sweat and dust won't stop these water resistant headphones – or your workout. You can even wash them after a tough training session.
Stable, reliable Bluetooth® connectivity
A Bluetooth chip, which transmits sound to left and right ears simultaneously, coupled with optimised antenna design ensures a stable connection and outstanding listening. Low audio latency makes for enjoyable viewing too.
Secure fit
The soft-cushioned arc supporter and three-dimensional curved design ensure a secure, comfortable fit. So while you move, your headphones don't.
Maximise your performance with EXTRA BASS™3
Boost your beats – and your performance. EXTRA BASS delivers powerful, punchy low-end sound, giving you the drive to keep going.
No distractions with Digital Noise Cancelling
When you need that special playlist to take your workout to the next level, noise cancelling blocks out distractions – like the sounds of the gym or the street. So it's just you and the beat.
Stay aware with Ambient Sound Mode
Ambient Sound Mode keeps you in the moment while you're moving. Mixing the music you love with the sounds of your environment, enjoy your favourite tracks and still hear your workout buddy or stay aware when running outside.
Adaptive Sound Control automatically adjusts to whatever you do and where you are 4
Adaptive Sound Control is a smart function that automatically detects what you're up to – for example, running, walking, waiting or travelling – then adjusts ambient sound settings to suit your environment. You can also customise the settings to your preferences using the Sony | Headphones Connect app – it can even learn favourite locations such as the gym or park.
Control at your fingertips
Use the intuitive touch control settings to play, stop, or skip through tracks and adjust the volume. And with the Quick Attention function, placing your finger over the earbud turns the volume right down and lets in ambient sound. So you can instantly chat with someone without removing your headphones. If you want to customise your touch controls, no problem. The Sony | Headphones Connect app lets you assign alternative options.
Go smarter with Voice Assistant – Google Assistant5, Amazon Alexa5, and Siri6
Manage your day, just by asking your assistant. Enjoy entertainment, connect with friends, get information, listen to music and notifications, set reminders, and more.
Clearer hands-free calling
The WF-SP800N delivers clearer voice quality for hands-free calling and you can take calls using either, or both, of the earbuds. This allows you to alternate their recharging or hear calls more clearly in noisy environments.
Need more bass?
Whether you're looking for more bass or less, the Sony | Headphones Connect app lets you customise sound levels to suit your music using the equaliser.
Choose your colour7
The WF-SP800N headphones and carrying case come in a choice of colours to suit your style. 
Choose the right size for you
With 2 sizes of arc supporters to ensure a secure fit even in tough workouts, and 5 sizes8 of long hybrid silicone rubber earbuds included, you can find the perfect fit for your ears to maximise sound quality and minimise outside noise.