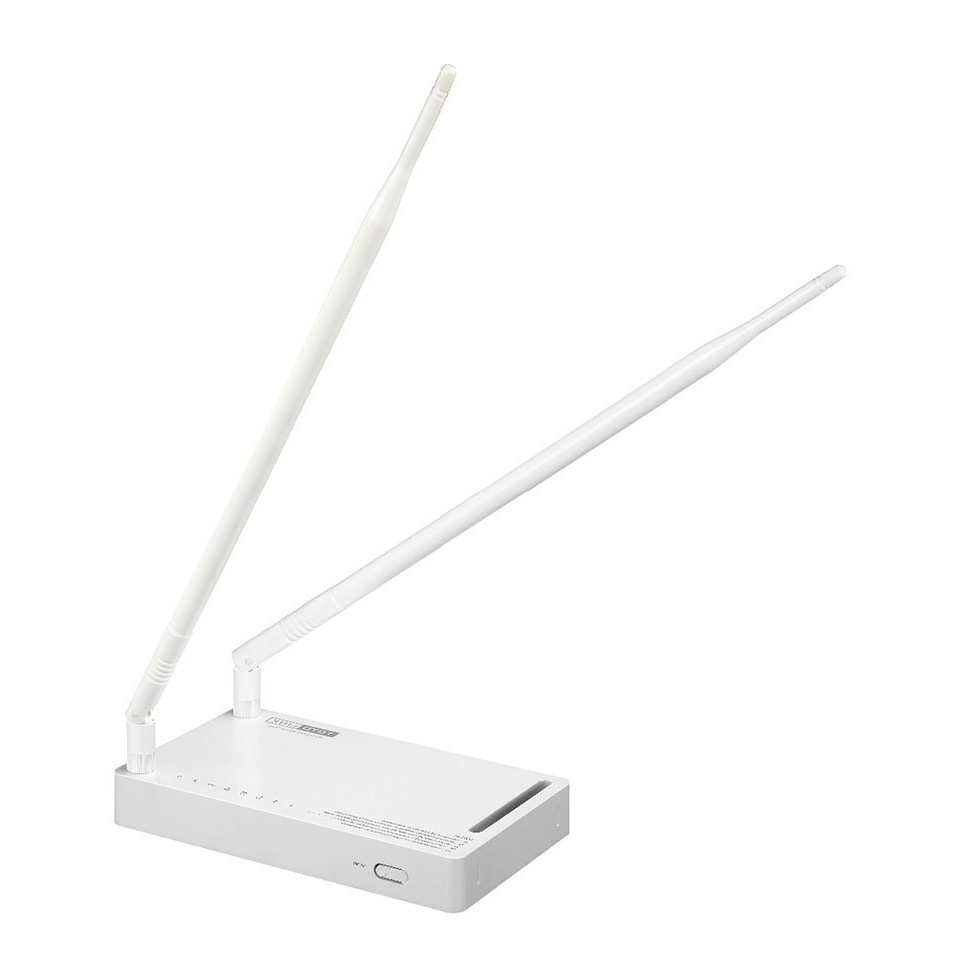 Totolink N300RH Antenna Wi-Fi Router
About this item
Antenna: 2 x 11dBi
Band: 2.4 GHz
Speed: 300 Mbps
Feature: 3000 sqft Coverage, 15 ~ 25 Users
Stock Available
0 % VAT Applicable
Integrity Guaranteed
More info (?)In order to give our customers the best online shopping experience by helping them to make a sound decision, we color code all our products with the following for authenticity, quality and seller reliability.

Green: Best

Yellow: Unknown

Red: Poor
Interface
4*10/100Mbps LAN Ports
1*10/100Mbps WAN Port
Status
System Status
Statistics
System Log
Wireless
Basic Settings(including Band, Mode, SSID, Multiple APs, etc.)
Security Settings
Site Survey
WDS
Advanced Settings
Access Control
WPS
Schedule
Power Supply
9V DC/0.8A
Button
RST/WPS Button
LED Indicator
1*Power, 1*CPU, 1*Wireless, 1*WAN, 4*LAN
Antenna
2*11dBi Detachable Antennas (2*5dBi old model for Thailand)
Wireless Standards
IEEE 802.11n, IEEE 802.11g, IEEE 802.11b
RF Frequency
2.4~2.4835GHz
Data Rate
802.11n: Up to 300Mbps
802.11g: Up to 54Mbps (dynamic)
802.11b: Up to11Mbps (dynamic)
Wireless Security
64/128-bit WEP, WPA/WPA2, WPA-PSK/WPA2-PSK (TKIP/AES)
Reception Sensitivity
270M: -61 dBm@10% PER
135M: -65 dBm@10% PER
54M: -68 dBm@10% PER
11M: -85 dBm@8% PER
6M: -88 dBm@10% PER
1M: -90 dBm@8% PER
Environment
Operating Temperature: 0℃~55℃ (32°F~131°F)
Storage Temperature: -20~65℃ (-4°F~149°F)
Operating Humidity: 10%~90% non-condensing
Storage Humidity: 5%~95% non-condensing
Warranty
1 Year Brand Warranty.
Description of Totolink N300RH Antenna Wi-Fi Router
You can find the Totolink N300RH Antenna Wi-Fi Router on GProjukti.com in Bangladesh. This router boasts a versatile interface, featuring 4 high-speed LAN ports and 1 dedicated WAN port, allowing you to connect multiple devices and establish a robust network at home or in the office. The router prioritizes security with robust wireless security protocols to safeguard your network and sensitive information.
Two detachable 11dBi antennas on the Totolink N300RH ensure strong signal strength and coverage without dead zones. You can easily manage your network with user-friendly settings like multiple access points and access control. Its design seamlessly blends into any environment, complemented by LED indicators for straightforward monitoring. Feel free to call us for more information. 
Features of the Totolink N300RH Antenna Wi-Fi Router:
System status, statistics, and log for network performance monitoring

Robust wireless security with encryption protocols

Detachable antennas for improved signal strength and extended coverage

User-friendly interface with multiple access points, site survey, WDS, and more

LED indicators for easy monitoring and troubleshooting

Wide operating temperature range for versatile use

1-year brand warranty for peace of mind
These features make the Totolink N300RH Antenna Wi-Fi Router a reliable choice for enhancing internet connectivity and creating a secure network.
What is the Price of the Totolink N300RH Antenna Wi-Fi Router in Bangladesh?
Experience the future of connectivity with the Totolink N300RH Antenna Wi-Fi Router, available exclusively at GProjukti.com. Upgrade your networking setup today and unlock a world of possibilities. You can buy Totolink Router at the best price from our website or visit any of our GProjukti.com stores. The latest price of the Totolink N300RH Antenna Wi-Fi Router in Bangladesh is ৳2,995.