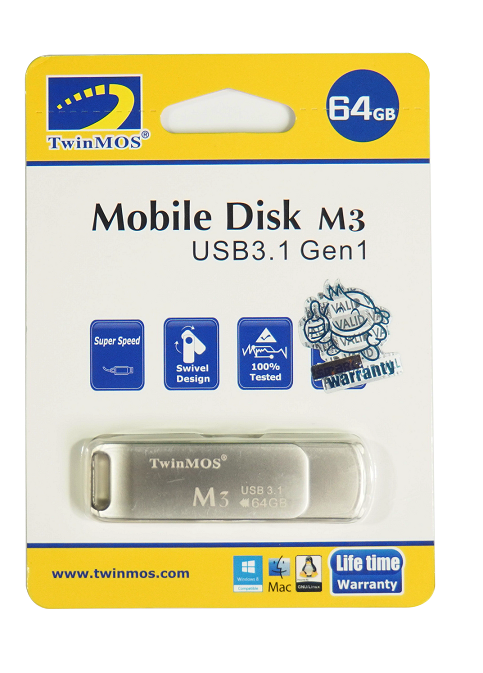 TwinMOS M3 32GB USB 3.0 Metal body Black Pen Drive
Description
Stock Available
0 % VAT Applicable
Integrity Guaranteed
More info (?)In order to give our customers the best online shopping experience by helping them to make a sound decision, we color code all our products with the following for authenticity, quality and seller reliability.

Green: Best

Yellow: Unknown

Red: Poor
Item

Specification

Model

M3

Capacity

32GB

Color

Black

Interface

USB 3.0

 

Reading / Writing

 

 

Read: UP to 90(MB/Sec) ; Write: Upto 30 (MB/Sec)

*Note: Speed may vary due to host hardware, software

and usage

Hot Plug


Storage Time


Warranty

Yes

>10 Years

Product Lifetime
Description of TwinMOS M3 32GB USB 3.0 Pen Drive
The TwinMOS M3 32GB USB 3.0 Black Pen Drive is a durable storage solution featuring a metal body for fast and reliable data transfer. This plug-and-play device requires no external power and has a 32GB capacity, making it ideal for documents and photos. The USB 3.0 interface ensures quick read and write speeds (up to 90MB/s and 30MB/s), though actual speeds may vary. It supports a power-saving mode for energy efficiency. With a warranty of over 10 years and a lifetime guarantee, the TwinMOS M3 is a dependable choice for your storage needs.
What is the TwinMOS M3 32GB Pen Drive in Bangladesh?
You can find the TwinMOS M3 32GB USB 3.0 Pen Drive at GProjukti.com, your go-to destination for accessories solutions. You can buy TwinMOS pen drive at the best price on our website or visit our GProjukti.com stores. The latest price of the TwinMOS 32GB Pen Drive in Bangladesh is ৳525.