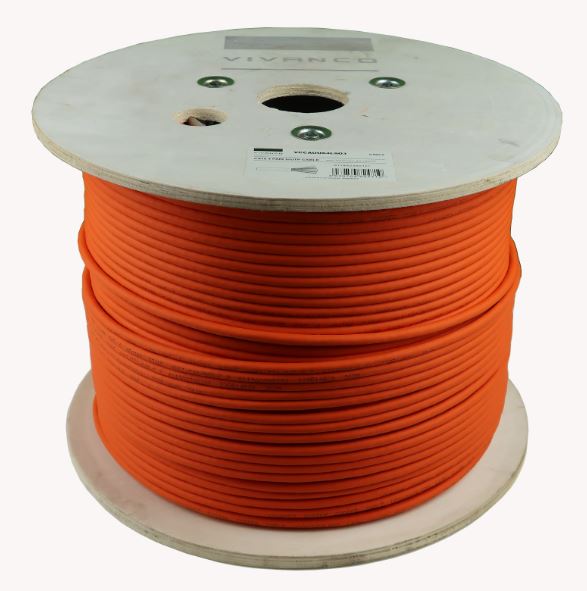 VCCAUU64LSO3 # VIVANCO CAT 6 U/UTP CABLE, UNSHIELDED LSZH, ORANGE
Description
Stock Available
0 % VAT Applicable
Integrity Guaranteed
More info (?)In order to give our customers the best online shopping experience by helping them to make a sound decision, we color code all our products with the following for authenticity, quality and seller reliability.

Green: Best

Yellow: Unknown

Red: Poor
| | |
| --- | --- |
| Category | 6 |
| Cable Type | U/UTP (Unshielded) |
| Conductor | 23AWG, Solid Bare Copper |
| Insulation | HDPE |
| Pairs Quantity | 4 |
| Outer Sheath | CM, CMR, LSZH, PE, PVC |
| Outer Diameter | - 6.3±0.3mm, LSZH |
|   | - 5.6±0.3mm (CMP) |
| Operating Temperature Range | -20°C ~ +60°C |
| Standard Compliance | - ISO/IEC 11801 |
|   | - ANSI/TIA.EIA-568.2-D |
|   | - IEC 61156-5 |
|   | - EN 50399 |
|   | - EN 50173-1 |
Description of Vivanco CAT 6 U/UTP Cable
The VIVANCO CAT 6 U/UTP Cable is a reliable copper cable for various network needs. It has 4 pairs of 23 AWG solid bare copper conductors, ensuring good data transmission in a Category 6 setup. The U/UTP (Unshielded) design, along with a cross filler inside, boosts performance in NEXT (Near-End Crosstalk) and ANEXT (Alien Crosstalk). The 305m reel has durable length markings, reducing wastage during installation. Outer sheath options include CM, CMR, LSZH, PE, and PVC. Operating in a temperature range of -20°C to +60°C, the VIVANCO CAT 6 U/UTP Cable is a durable and efficient choice for networking. Feel free to call us for more information.
What is the Vivanco CAT 6 U/UTP Cable in Bangladesh?
You can find the Vivanco CAT 6 U/UTP Cable at GProjukti.com, your go-to destination for networking solutions. You can buy CAT 6 Cable at the best price on our website or visit our GProjukti.com stores. The latest price of the Vivanco CAT 6 Cable in Bangladesh is ৳17,495.