-

৳

1,005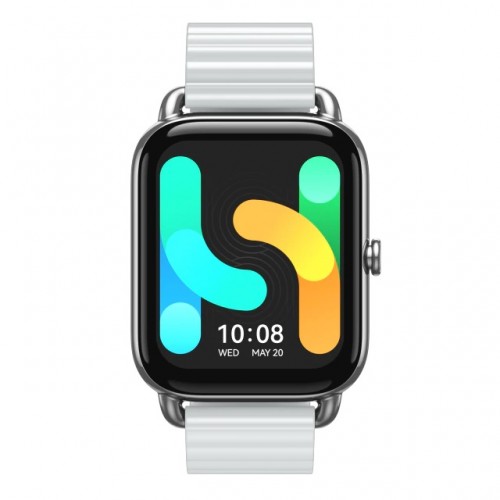 Haylou RS4 Plus AMOLED Smart Watch with spO2 - Silver
About this item
Model: Haylou RS4 Plus
Display: 1.78" (368 x 448) Large Retina AMOLED 60Hz HD
Blood Oxygen, Heart Rate, Sleep Monitor
105 Sports Modes, IP68 Waterproof
Brand new UI interaction system
৳5,990
Stock Available
0 % VAT Applicable
Integrity Guaranteed
More info (?)In order to give our customers the best online shopping experience by helping them to make a sound decision, we color code all our products with the following for authenticity, quality and seller reliability.

Green: Best

Yellow: Unknown

Red: Poor
Basic Information
Display
1.78" (368 x 448) Large Retina AMOLED 60Hz HD Display
Connectivity
Bluetooth V5.1
OS
Android 6.0 and above, iOS 11.0 and above. Supported functions will vary with different watches, mobile phones, and countries.
Sensor
24-hour heart rate monitoring
SpO2 tracking
Temperature detection
Smart sleep monitoring
Exterior
Color
Black
Silver
Warranty Information

Warranty 

1 Year 
Description of Xiaomi Haylou RS4 Plus AMOLED Smart Watch
The Xiaomi Haylou RS4 Plus smartwatch features a 1.78-inch Retina AMOLED screen with a 60Hz refresh rate, 2.5D glass, and a 368 x 448 pixel resolution. It tracks heart rate, blood oxygen levels, and temperature, offering 105 sports modes with IP68 protection. The watch has a stylish square shape, a metal build, and a black, silver, or gold leather band. Its heart rate tracker records 24/7, and the sleep monitor helps manage sleep. 
It includes SPO2 blood oxygen, blood pressure monitoring, female health tracking, breath training, reminders, call notifications, and Alipay offline payment. With a 230 mAh battery, it offers 7-10 days of standard use and up to 25 days of backup. Enjoy a six-month guarantee and waterproof design up to an IP68 rating for handwashing or rain.
What is the Price of Xiaomi Haylou RS4 Plus in Bangladesh?
Looking for a smartwatch that can help you stay fit and healthy? Check out the Xiaomi Haylou RS4 Plus! Xiaomi Haylou RS4 Plus smart watch's latest price in Bangladesh is ৳4,985. GProjukti.com sells Xiaomi smartwatches in Bangladesh at prices that most people can afford so that people can buy these smart gadgets.