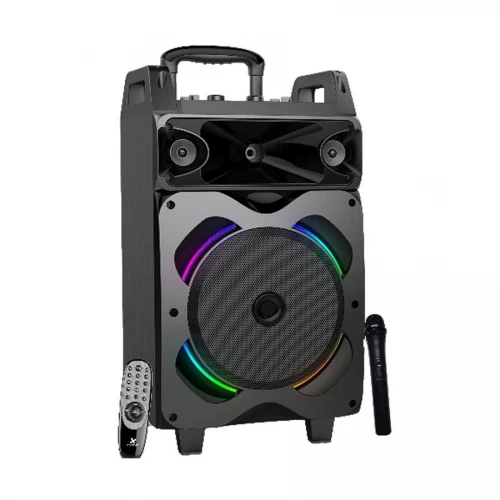 XTREME JALSA Trolley SPEAKER
About this item
Model: JALSA
Connectivity Mode - Bluetooth
Channel - 3:0
USB Port - Yes
Memory Card Slot - Yes
Output power: 40W (RMS)
Power Supply: ~230V 50Hz
Stock Available
0 % VAT Applicable
Integrity Guaranteed
More info (?)In order to give our customers the best online shopping experience by helping them to make a sound decision, we color code all our products with the following for authenticity, quality and seller reliability.

Green: Best

Yellow: Unknown

Red: Poor
SD/MMC, USB, FM, AUX-IN, Guitar-IN, Remote, BT, Record, MIC

Output power:

40W  (RMS)

Power Supply:

~230V 50Hz

Battery

12v , 4.5 A, acid Battery

Play Time

4/5 Hours

Charging Time

02 Hours

Bluetooth

4.2+EDR+BLE

Drive Units:

Treble: 1" x 1  Bass: 8" *1

Frequency Response:

Sat: 120Hz-20KHz, Sub: >20Hz-170Hz

Separation:

>40dB

SIN:

>70dB

Distortion:

<0.5% (1K, 1W)

Dimension

 

Product Size :

W300*H549*D315 mm
XTREME JALSA Trolley Speaker
in Bangladesh
The XTREME JALSA Trolley Speaker is a versatile speaker that offers a dynamic audio experience. It features built-in Bluetooth for wireless music streaming, ensuring a hassle-free setup. You can connect your music through various options, including USB, memory card, FM radio, AUX-IN port, and a guitar input for jamming sessions. 
The speaker's 12V, 4.5A acid battery provides 4 to 5 hours of playtime on a single charge, with a quick 2-hour recharge time. Measuring W300H549D315 mm, this speaker is ideal for parties, beach trips, or home gatherings. Plus, you can call it your ultimate audio companion.
What is the Price of
XTREME JALSA Trolley Speaker
in Bangladesh?
At GProjukti.com, you can buy the XTREME JALSA Trolley Speaker for the best price and open up a world of intense sound. You can buy Xtreme Speaker at the best price from our website or visit our GProjukti.com stores. The latest price of the XTREME JALSA Trolley Speaker in Bangladesh is ৳10,895.