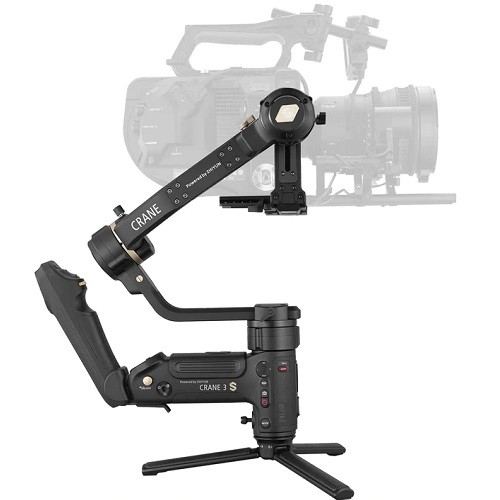 Zhiyun CRANE 3S
Description
Stock Available
0 % VAT Applicable
Integrity Guaranteed
More info (?)In order to give our customers the best online shopping experience by helping them to make a sound decision, we color code all our products with the following for authenticity, quality and seller reliability.

Green: Best

Yellow: Unknown

Red: Poor
Description
The Zhiyun Crane 3S 3-Axis Handheld Gimbal Stabilizer first gimbal with built-in picture transmission revolutionized the way people held and controlled gimbals in the studio. Various sorts of shooting environments necessitate great capacity and flexibility of shooting equipment, ranging from frantic pursuing shoots to studio filmmaking. With filmmakers in mind, ZHIYUN believes that adapting to a tight and unpredictable filming environment might be even better. Now presenting the new Zhiyun Crane 3S 3-Axis Handheld Gimbal Stabilizer, the iconic gimbal with a completely new modular design aimed at broader application and easy operation, building on a tradition of innovation.
Full Specifications  
Dimension
453*230*68mm (Folded, without quick release plate)
 
Weight
1880g (Tripod and Battery are not included)
 
Model
Crane 3S
 
 
Nikon: D6, D850, D780, Z5, Z6, Z7, Z6 II, Z7 II, Z50
 
FUJIFILM: X-T2, X-T3, X-T4, X-T30, X-H1
 
Z CAM ZCAM E2, E2 C, E2 F6
 
Blackmagic: BMPCC 4K, BMPCC 6K
 
Sigma: SIGMA fp
 
Battery
Voltage
operation Voltage: Max: 25.2V, Min: 9.8V, Standard: 11.1V
 
Operating Time
Battery Runtime: Lab Data: 12h
 
Charging Time
Lab Data: 4h
 
Gimbal
Mechanical Range
Following Deviation in Motion State: Max: ± 0.3°
 
Standard: ± 0.1°
 
Min: ± 0.05°
 
Tilt Mechanical Range: Max: +155°
 
Min: -91°
 
Roll Mechanical Range: Max: +237.5°
 
Min: -57.5°
 
Pan Mechanical Range: 360°
 
Warranty
Warranty
01-Year Service Warranty.