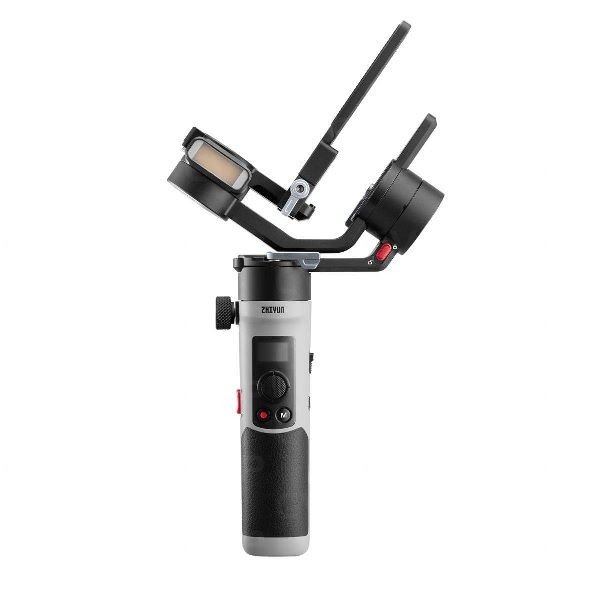 Zhiyun Crane M2s Handheld Gimbal Stabilizer
About this item
Model: Crane-M2s
Smooth Zoom
Vlogging Non-Stop
Dual safety Lock Design
Seamless Camera Control
Stock Available
0 % VAT Applicable
Integrity Guaranteed
More info (?)In order to give our customers the best online shopping experience by helping them to make a sound decision, we color code all our products with the following for authenticity, quality and seller reliability.

Green: Best

Yellow: Unknown

Red: Poor
 

Stabilizer

 
Tilt Mechanical Range
320°
Roll Mechanical Range
320°
Pan Mechanical Range
360°
Battery
 
Operation Voltage
Max: 12.6v
Min: 9.6v
Operation Current
Max: 4000mA
Min: 135mA
Output
5V, 1A
Battery Runtime
Max: 10H35min (lab data)
Charging Time
1H41min (lab data)
Size & Weight
 
Product Size (W*D*H)
240*68*150mm
Net Weight
~550g/unit
Description of Zhiyun Crane M2s Handheld Gimbal Stabilizer
The Zhiyun Crane M2s, Handheld Gimbal Stabilizer, features a sleek design and advanced features to simplify professional-looking footage capture. With the Crane M2s' smooth zoom function, dynamic and engaging shots are now at your fingertips. Bid farewell to interruptions, thanks to its long battery life of up to 10 hours and 35 minutes (based on lab data), enabling uninterrupted filming.
Take control of your camera's movements through the Crane M2s's intuitive design, enabling you to concentrate on capturing the moment. You attain full creative control with an impressive mechanical range – 320° tilt, 320° roll, and 360° pan. Versatility shines as the Crane M2s supports numerous cameras for diverse shooting scenarios.
Weighing about 550g, the compact Crane M2s is effortless to carry and utilize. Quick charging in just 1 hour and 41 minutes (lab data) ensures you're always ready to seize life's unforgettable moments.
What is the Price of Zhiyun Crane M2s Gimbal in Bangladesh?
You can find the Zhiyun Crane M2s at GProjukti.com, your go-to destination for gadget solutions. You can buy Zhiyun Gimbal at the best price from our website or visit our GProjukti.com stores. The latest price of the Zhiyun Crane M2s Gimbal in Bangladesh is ৳25,594.